On-Demand Webinar: The Advantages of Teaching The Sprint Movement Pattern in an Aquatic Environment
On December 16, 2015, we hosted a webinar titled, "The Advantages of Teaching the Sprint Movement Pattern in an Aquatic Environment." In this webinar, Bryan McCall, RSCC*D, Director of Performance and Brian Abadie, CSCS, High Performance Coordinator at Michael Johnson Performance (MJP), located in McKinney, TX presented on the technical mechanics of the sprint movement and how and why they can be taught in an aquatic environment.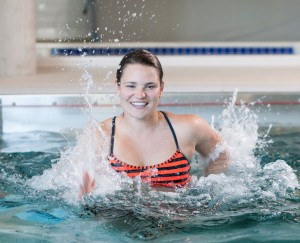 Elite athletes want to be faster. Therefore coaches and athletic trainers are always looking for new training techniques that will help increase their athletes' speed. Based on theories from world experts, combined with the innovation of water as a training medium, the movement pattern that defines speed is broken down in this presentation for all clinicians and athletic trainers to be able to apply when training their athletes.
Bryan and Brian discussed the following in the presentation:
The definition of the sprint signature
The advantages of speed training in an aquatic environment
Limb velocity in water compared to dry land
The four key components of the sprint signature or movement pattern, which are described in detail in the webinar, are:
Low to high leg cycle
10 degrees of hip extension
88-90 degrees in front side knee drive
Parallel belt buckle
Bryan and Brian discussed how important mastering the mechanics of sprinting is in the world of sports. All athletes, regardless of their sport need to develop these movement patterns because they provide more benefits than just being able to run fast. They improve endurance, balance and strength. The coaches at MJP said they have had bull riders work on their sprint mechanics because they need to sprint away quickly from a bull when they fall off.
At MJP, many coaches take advantage of their HydroWorx treadmill pool and plunge pools for recovery, interval training, rehabilitation and now for teaching the sprint signature. Through research and experience they found that in the water,
Limb velocity is not much different than on air, therefore it does not negatively affect the athletes' mechanics
Individuals experience reduced heart rate
Rated Perceived Exertion (RPE) is higher
Blood lactate is higher
Additionally, by teaching the sprint signature in an aquatic environment, they are able to do more without the risk of injury because ground force reactions are significantly reduced. Bryan and Brian shared that the key to teaching this movement pattern successfully is to break it down in order for the athletes to master each component. They went so far as to say, "There is not a better environment than the water for learning these progressions." With the use of the underwater cameras, performance coaches and athletes are able to see any flaws in their gait or movements in real time.
Bryan and Brian finished the presentation discussing more specific ways to teach these sprint signatures in the water and provided a sample protocol.
The webinar was extremely informative with a lot of practical ideas that could be implemented immediately for those working with athletes. Because it was so engaging, it also garnered a lot of great questions. A few of them are reviewed below:
"With regard to the low to high leg cycle, is that affected by an imbalance of overly powerful quads with weaker hamstrings?"

"Yes. What we are seeing is that these quad dominant athletes are so tight in the anterior position that they cannot get the knee to fold all the way up and collapse. The knee is collapsing to reduce the leverage to get the leg into a better position. In order to get the leg in a better position, we must first affect the quad and then the hamstring."

"Could these sprint principles be used to improve speed for long distance runners and endurance athletes? And if so, how would that program differ from that of one for a sprint athlete?"

"Alberto Salazar, coach of the Oregon Project, came to the team at MJP to increase the speed in his long distance runners. He wanted his middle distance and long distance runners to be faster but did not want them to increase their mileage during this training."
"By improving their sprint speeds, it improved their times which was an "aha" moment for us here. Most of the athletes we train are short distance sprinters, and when he first brought these long distance runners to us, we didn't think we could help them. We were able to take them through these sprint signature movements, and even for these guys who were the best in the world, it was something new to them. By improving these sprint signature movement patterns these athletes were able to start their race faster and finish faster."

"How would you be able to implement things like this without the use of the underwater camera to make sure the legs are in the proper position?"

"We would use some type of video app if we could and try to get the best angle. The underwater camera in the pool is such an advantage, and that is why we like to use this pool versus going out to our big pool because we do not have an underwater camera in that one."
"That's one of the beauties with working with HydroWorx is that you have both, you have a water environment and the video analysis that goes with it; and that is in conjunction with the underwater treadmill and resistance jets."
Watch the full on-demand webinar today!