On-Demand Webinar: "Innovative Co-Treatment Therapy Combining Physical and Speech Therapies in an Aquatic Environment"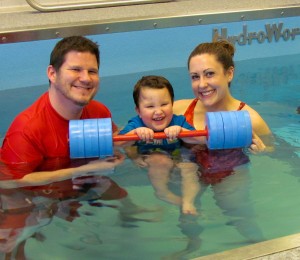 On December 3, 2015, we hosted a webinar titled, "Innovative Co-Treatment Therapy Combining Physical and Speech Therapies in an Aquatic Environment." In this webinar, Timothy Williams, PT, DPT, Physical Therapist and Ambyr Henderson, MS, CCC-SLP, Speech and Language Pathologist at Pullman Regional Hospital, located in Pullman, WA presented on the topic of combining physical and speech therapy in the water for a young boy with a brain tumor.
This webinar was packed full of great ideas for engaging pediatric patients in the water. Tim and Ambyr began by introducing this 3 1/2 year old boy, Jackson, via a video describing his diagnosis, his initial evaluation and how they came to putting Jackson in the water. They reviewed the innovative pool toys that they use and the different activities used to incorporate both speech and physical therapy. One main focus of this specific rehabilitation was encouraging Jackson to use vocalization that matched his movements such as:
Simply talking about what he's doing, like saying "catch the ball" when he wants to throw the ball or "here I come" when he is practicing swimming.
Adding adjectives to improve movement and speech like having him verbalize "big" and "loud" which also helped him to move better and speak louder.
Including rhymes and songs that are modified to use pool terminology and activities.
Using jets during the session to practice kicking against water, scooping and saying "go" and "bye" while he "swims up the river."
After their initial combined session, they noticed that he was much more engaged with the activities in the pool and more animated. They found that they got increased participation from him and interest in the therapy as well as increased vocal intensity. The water not only helps him do movements more easily but it's also more challenging with the natural viscosity of the water, the use of jets and increased sensory inputs.
Currently, Jackson receives one pool session and one land session every other week, and two land sessions the alternating weeks. Some of the results they have seen impact both speech and physical therapy.
Speech results:

He requires little cuing.

His grammar has improved from 53% to 90% accuracy.
His syntatic complexity has improved as he is now using adjectives.
He is completing independent sentences.
He has improved respiratory capacity as he is getting the right volume.
He is scoring 35%  to 100% accuracy on CVC.
He is now within normal language range for his age.

PT results:

He has improved endurance and strength, noticeable in that he can make it through an entire 45-minute session.
He has improved core strength, which has helped his stability in the pool and balance on land.
His PDMS2 score improved by 10 points in all categories.
There is great carryover to land therapy by reminding him of how things were done in the pool.
An unintended but beneficial consequence is that both Tim and Ambyr are learning how physical therapy strategies can be incorporated into speech treatment and vice versa, meaning Jackson is getting added benefits in his land therapy sessions as well.
Tim and Ambyr have a few theories about why this co-treatment is working so well in the pool:
Combining therapies produces higher quality of motor control and vocal productions.
Cutting 2 hours of treatment (separate physical and speech therapy sessions, back to back) to 45 minutes means the patient isn't exhausted and losing interest by the end.
Stimulating several senses at the same time in the pool has an exponential effect. The sense stimulated include: tactile with warm water, movement and hands-on therapy; auditory from the instructions, pool noises and echoes; taste when water gets in their mouth.
Strengthening of respiratory muscles with the hydrostatic pressure and added resistance of the water.
Encouraging them to project and use their voice is different in the pool because the environment is acoustically challenging as a result of the noise from jets, pumps and the tile walls.
The skills practiced in the water carry over to other environments.
They have also tried some of their techniques with group therapy during the summer and are looking forward to doing it again next summer because they saw great results from that as well. In this case, they created stations in the water where three children rotated among three therapists with different focuses such as kicking, speech or jumping. The parents were thrilled with the therapy because they were able to interact with other parents with similar stories, and their kids were enjoying a "normal" summer activity in which they might not typically participate. They also got referrals from speech therapy patients to physical therapy and vice versa. The kids loved it because of the social aspect and "fun" of the water and the therapists saw progress in all disciplines.
Tim and Ambyr would like to continue using these co-treatment techniques in the future while also incorporating some strict research methods so that others can learn from their results. They are looking to increase their group aquatic therapy offerings, add occupational therapy and include a more diverse patient mix such as adding autism spectrum disorders, down syndrome and more.
The webinar was extremely informative with a lot of take-aways and practical ideas that could be implemented immediately for those working with children in the water. Because it was so engaging, it also garnered a lot of great questions. A few of them are reviewed below:
Questions:
Have you ever seen a child with a fear of water? If so, how did you handle it?

The key is to ease kids into it: work on touching the water, talk about the pool, have their families talk about the pool, include toys that pique their interest in the pool, have them watch their peers, use encouraging language such as "I'm here for you," "you're safe," and "I have you," hold onto them tightly, and start in shallow water.

How do you transition kids, especially those with an autism spectrum disorder, out of the pool when the session is over?

We use a consistent routine (doing same thing every single time). Use the same song at the beginnning and end of a session and never change. An example session might include: A beginning song, flashcard work, a game, a physical activity and an ending song.
We also use a visual timer warning and repeat what activity comes next and when they are expected to get out.
Use visual cues that it is time leave, such as having a toy fish leave the pool, having an aide get out of the pool and then it is the child's turn to leave.

If you only had one therapist in the pool, how could you alter the aquatic therapy?

If the patient could move independently fairly well, it may be easier to only have one therapist, but you may also use a flotation device such as water wings or a life jacket to support the patient. If the patient is more dependent, you can place their head on your shoulder or prop them on your leg and support them with one hand while producing movements with your other hand. If you do need another person in the pool for safety, try to get a family member like a parent or sibling in the pool with them which will provide an extra pair of hands and added carryover to the home.
Tim and Ambyr are doing some awesome, innovative therapies in Pullman, WA and we are thankful that they shared their successes with us. Watch the full webinar on-demand>>