Olympian Michael Johnson Chooses HydroWorx for World-Class Performance Center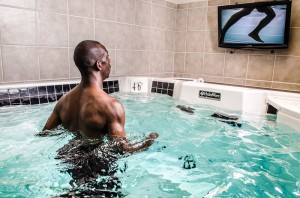 Three-time Olympian Michael Johnson is no stranger to the world of intense sports training. The recipient of 13 Olympic and World Championship medals, all of them gold, Johnson, is well aware that athletic talent has to be wisely cultivated. For his world-class Michael Johnson Performance Center, he has acquired the most advanced recovery and training equipment on the market, including a HydroWorx underwater treadmill.
It's the perfect marriage of technology and training: Michael Johnson Performance Center (MJP) and the HydroWorx 500 Series performance and rehab pool complete with underwater treadmill. Johnson, the American sprinter who stunned the world at the 1992, 1996 and 2000 Olympics, has embraced the use of this innovative athletic equipment to help patrons of his world-class facility get stronger after injuries, safely avoid overuse strains and effectively increase their abilities.
"Our objective is to help athletes at any level achieve their full potential," explains Johnson. "It's important for us to provide as many resources as possible to be the best for our athletes… and we need the best equipment and tools to do that. HydroWorx is known for its quality and innovation."
At MJP, athletes focus on increasing their athleticism (e.g., speed, agility, strength, power) via nutrition, injury rehab, injury prevention and mental strength programs. By providing the HydroWorx underwater treadmill as a method of recovery and cross-training, Johnson and his team of experts can promise athletes exceptional workouts without the physical stressors of land-based running or sprinting. As Johnson notes, "When our athletes get a session in the HydroWorx, they feel fresher – it's a welcome change for them."
Lance Walker, CSCS, PT, Director of Performance at MJP, sees the HydroWorx as the next generation of aquatic therapy and training. First introduced to aquatic therapy when therapists were only using what he deems "old-school" shallow water hydrotherapy methods, Walker has seen how the multi-depth HydroWorx has changed the face of active recovery strategies and re-generation techniques. "HydroWorx has become a key piece of our methodology. We're able to get athletes to do some power training they might not otherwise be able to do, and helping to expedite inter-session recoveries."
Walker continues, "The strategic use of HydroWorx has, in some cases, rewritten the progression for some athletes. [They can] do things in the pool that they couldn't do on land. What we've seen is a quicker return to function."
Johnson and Walker aren't alone in their move toward underwater treadmill rehabilitation and workouts for those looking to realize 100 percent of their athletic potential. Internationally-recognized marathoner Alberto Salazar has also adopted the HydroWorx underwater treadmill as a major part of the training regimen of the elite Oregon Project runners he coaches. To date, three of his protégés – Americans Galen Rupp and Dathan Ritzenhein, and Brit Mo Farah – have dramatically shattered records and astounded audiences leading up to their presence at the 2012 Olympics.
For their part, HydroWorx is thrilled to be an integral piece of MJP's programming.
"Partnering with Michael Johnson Performance Center will allow many more athletes to experience the unique benefits of the HydroWorx underwater treadmill," says Anson Flake, CEO, HydroWorx. "We're pleased to have this opportunity to help MJP achieve its objectives through advanced rehabilitation and training technologies."
The Only Fitness Pool for Professional Athletes
For the world's leading clinicians, MJP's choice of a HydroWorx product is hardly a surprise — no other fitness pool manufacturer today has the athletic pedigree of HydroWorx. You'll find HydroWorx products in the locker and training rooms of dozens of professional sports teams, including the Philadelphia Phillies, Eagles and Flyers, the Toronto Maple Leafs, the New York Mets, the Detroit Lions and the Minnesota Vikings. HydroWorx pools are essential in helping athletes recover from surgery safely and maintain peak physical condition while healthy. Just listen to what John Norwig, Head ATC of the Pittsburgh Steelers, has to say about his team's choice of a HydroWorx: "Frankly, I don't think there is anything better on the market. I would enthusiastically recommend the product to everyone."
Since 2001, Johnson and MJP have prepared some of the top NFL draft prospects for the NFL combine. NFL players, including Pro Bowlers and first round draft pics choose MJP each off-season to improve their speed, power, agility and to raise their game. In addition to playing a role at the NFL Combine in February, Johnson has plans to take his MJP concept to an international level in 2013.
Learn more about how athletes can benefit from aquatic therapy here.