Guest Blogger & Masters Runner, Nick Berra, Shares His Experience on the Track and in the Water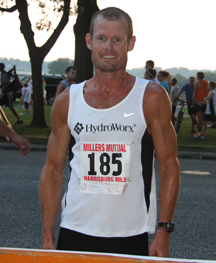 As a 41-year old runner, I am well aware of the limitations I face as I attempt to remain competitive.  Like most masters athletes, not only do I not have the time or support structure of a collegiate or post-collegiate runner, but even if I did, I don't think that I would be able to handle the abuse that comes with that sort of training.  The average masters runner is shooting to get on the track a couple times a week, hits the gym when they can, and gets his mileage on the roads during a long lunch break or in between the kids soccer practices.  We are always fighting some ache or pain that partly comes from recovering from difficult workouts or escalating mileage, and partly from just not being 22 years old anymore.  Although I have many of the same responsibilities and limitations as these other runners, I think that I have several unique things working in my favor that have helped me be fairly successful in my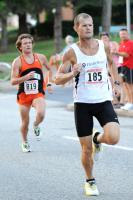 brief track "comeback".  This introduction will hopefully set the stage to eventually share some of the workouts and strategies I have used to begin to maximize my potential and fight the ongoing battle against the clocks – both the one at the finish line timing the race and the one manned by father time whose results are listed on every race application under "Age on Race Day"…
Many masters runners train with a team, some coached some not.  I have taken my gig the route of the Lone Ranger, sans Tonto.  Aside from jumping in an occasional workout with the high school kids I help coach, all of my mileage and all of my workouts are done alone – no partners, no coaches.  I'd take either one, but a.) I don't have many buddies that consider 5x1000m to be a fun way to spend an afternoon,  b.) I looked up "Old-Guy Track Coach in the Yellow Pages and didn't find anyone, and most importantly c.) I've done alright thus far, why mess with a good thing.  I'm always looking though, so if anyone wants to join me or thinks they have the answer to get me to the next level by all means track me down.
I mentioned earlier that I think I have several things working in my favor that are unique to my situation.  First is ability – there are a lot of runners I face with pedigree I simply cannot match – high school state record holders, college All-Americans, ex-Olympians, etc.  I have been blessed though with an intangible that I think is very often overlooked, and that is plain ole' athletic ability.  In the 20 years since college I may not have continued to train and race, but I never lost my ability to run the triple option on the flag football team or tear up the Navy's obstacle course.  When I dusted off the spikes and gave the running thing another try, I found that you just can't teach 'fast'.  You can get an athlete in shape, but you can't turn someone into an athlete.  The second thing that I have going for me is my work schedule.  I am a pilot for FedEx Express, hauling large quantities of who-knows-what to all corners of the nation under the cover of darkness.  This gives me large chunks of time in the light of day to do what I want – in this case, run.  On my days off my schedule is even more free, depending of course on the sport-de-jour of my kids.  In any case, it is rare that I can't formulate a 5-10 day plan around my schedule that allows me to get a great mix of distance, rest, cross-training, and hard workouts.  Finally, and most importantly, I think that my access to the HydroWorx facility and the larger and larger role it is playing in my training has given me an edge I otherwise may have struggled to attain.  It is this aspect of my training that I will describe in more detail in future blogs, but let me just say that if you haven't run in their underwater treadmill you don't know what you are missing.  I initially used it to supplement my training, then needed it this summer to rehabilitate an injury and sustain my fitness level, and with the upcoming indoor track season I feel confident enough in the treadmill to make it the foundation of my training instead of just a luxury option.
I am looking forward to having the opportunity to share details of my use of the HydroWorx underwater treadmill in future posts.  I enjoy these blog entries because it not only allows me to share my training with others, but it often times brings out details of my workouts that I had forgotten or allows me to see things from a different perspective.  I by no means am a coach or certified expert, but feel that I have spent enough time in the water experimenting with my training to have begun to fine-tune a couple of things that have made a huge difference in my strength and fitness level.  Until next time, keep running, and if you can, GET WET!
Nick is a HydroWorx sponsored runner who has been blogging about his experiences as a masters track athlete.  Click here if you would like to read more about Nick's training regimen in and out of the pool.