Nick Berra – Harrisburg Mile: Three Down, One to Go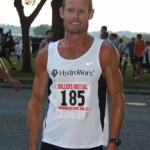 The following guest post is taken from a recent entry from elite masters runner Nick Berra's blog:
Third leg of the 2011 summer series is in the books. Good race last night – saw 4:23 as I crossed the line, not counting on ever seeing an official time because this race is traditionally run by Larry, Moe, and Curly and this year appears to be no different from past races. The results in the newspaper show the winner finishing in 3:48, with 5th place in 3:55 – I think I was actually 5th (I beat the guy listed as 5th, then took him out for dinner), but guessing since I was entered in the 'masters elite' that was too hard for them to integrate me into the 'overall' standings.
More to follow, but in a nutshell I ran what I had hoped to run and felt pretty good doing it. The conditions were challenging – headwind, hot as hell, very flat course (probably a little uphill start to finish) – so the effort was legit. Some HydroWorx recovery miles today, then we'll figure out the plan to prep for nationals.
Will add to this later this evening – gonna be 98 degs today, time for that backyard money pit to start earning its keep!
…
Happy with the results. This was kind of a 'tweener' race – with only a week or so after a long hard weekend in Sacramento, I spent most of it recovering in the pool. With another short week before nationals, I hope to get in one track session this weekend to prepare, but the heel/achilles will probably dictate how that plays out.
I had planned to get in the pool today for easy recovery miles, but forgot about cross-country practice. Accompanied the team out to the Thursday evening off-campus trail run, logged an easy hour with the girls – probably 7 miles or so. Definitely visiting HydroWorx tomorrow with the temps forecast to top 100 degrees and the legs still needing an easy day… taking it one day at a time…