Nick Berra- "Everyone Needs a Pool"
The following guest post is taken from a recent entry titled, "Everyone needs a Pool!" from elite masters runner Nick Berra's blog.
As a longtime HydroWorx user and masters track athlete, I have made the underwater treadmill the cornerstone of my training program for several years now.  I have found that at my age my body just isn't able to sustain the pounding and abuse that it could twenty years ago.  I still feel that to remain competitive I need to run 5-7 days a week, much of it at either tempo or race pace. In order to fulfill this need I have turned to the water.  Whether I use the pool to recover after hard days at the track, to help accumulate extra miles, or even to add an extra high-intensity workout to my week, I feel the time spent in the water is almost "free" with regard to the toll it takes on my legs.  It also is a great alternative to a winter run in sleet and freezing rain for someone who just isn't as brave/crazy as they used to be…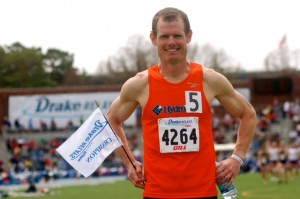 Having been fortunate enough to have had access to a HydroWorx pool for several years is something that I have never taken for granted.  I am often asked by fellow runners and training enthusiasts "where/how can I get on a unit?" I unfortunately did not have an answer to their question, because access to HydroWorx pools is not readily available to everyone.  When a YMCA in Randolph, NJ took the leap in 2011 and decided to make an investment in HydroWorx underwater treadmills, their belief in the popularity of aqua-training was immediately rewarded as the response was overwhelming.  Their members could not get enough of the underwater treadmills – they were booked solid days in advance as everyone realized what an amazing training tool the underwater treadmill was.  The treadmills continue to be a tremendous hit with the Y members, and an expansion is planned to add more units to meet member demand.
Having seen the setup at the Randolph YMCA first hand, I found their success to be no surprise.  For runners that lived nearby there was finally an opportunity to train underwater like Galen Rupp or Mo Farah – that community finally had an answer to that old question about where can one find an available HydroWorx underwater treadmill.  Unfortunately not every enjoyed this same luxury.  That is why I was extremely excited when I found out late last year that another facility was following a similar model and building a center that would offer HydroWorx treadmills to its members – right here in Mechanicsburg PA!  The facility was named Elite Athletic Performance and Cumberland Aquatic Therapy.  Elite Athletic Performance (EAP) was designed to provide not only tailored fitness and training programs to athletes of all skill and ability levels, but also wellness programs to those just looking to improve their quality of life.  An indoor pool was designed and laid out specifically for aqua-training, with the crown jewel being four HydroWorx underwater treadmills.  EAP opened to the public in January, and similar to the Randolph YMCA the underwater treadmills have been a tremendous success.
 I joined Elite Athletic Performance in February in an effort to shake up my training.  I felt like I was in a rut training-wise as an old hamstring injury was beginning to haunt me more frequently.  Maybe I was just getting old, who knows.  Whatever the case, I made an appointment with Jose Dominguez (proprietor, PT) and Rich Harris (head trainer, PT), at EAP, and have never looked back.  After a dose of much needed therapy, I began a regimen that has included weight lifting (it had been way too long), stretching (gee, what a concept), and lots of running, much of it in the pool. Rich Harris' program (of land and water training) has made me feeling stronger, faster, and looser than I have in years, and am looking forward to big things this outdoor track season. I couldn't be happier or more pleased with this new program.
 Having underwater treadmills readily available for runners and fitness enthusiasts is extremely beneficial because of the advantages of running and training underwater. Additionally, with obesity on the rise and baby boomers becoming less active, having HydroWorx treadmills in fitness centers benefits folks across the entire "athletic spectrum".  Indeed many athletes such as myself and numerous others have chosen to train and recover in the pool, but anyone can do it.   Walk, jog, or run – "just do it"!
As mentioned previously,  my new program with Rich Harris has made me feel stronger, faster and rejuvenated.  Having access to a device that revolutionizes recovery runs as well allowing me to get productive training on "hard days" has been a blessing for both my joints as well as my cardio fitness.  Hopefully before long aqua-training and rehabilitation will not just be for professional athletes, but available in fitness centers nationwide to everyone who wants to train like a professional.  Let's make it happen!