NFL Injury Update
Smashing helmets, ridiculous side tackles, plates of wings piled high and terrible refs. Yes is it football season. It is already week four of the NFL season and competition is rising, heated discussions are happening, the referees are making terrible judgement calls and fantasy leagues are the topic of conversation. That being said, unfortunately there are a number of players injured and currently working through some physical therapy and rehab in order to get back on the field as quickly as possible.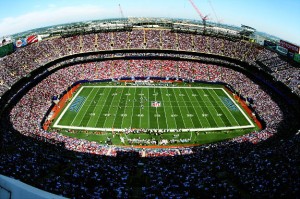 Football players are on and off the disabled list quite frequently, it's just the nature of the game, therefore the following list is not comprehensive but their teams are all loyal HydroWorx customers. Aquatic therapy is a great option for athletes trying to come back as quickly as possible from an injury. The buoyancy of the water can take up to 80-90% of the players weight off, allowing them to stay mobile and perform exercises sooner than they would be able to on land. Incorporating the underwater treadmill with aquatic exercises and then  land- based strength training will yield the best results for these high caliber athletes. Adrian Peterson, the Viking's star running back made use of the HydroWorx aquatic therapy pool after undergoing reconstructive knee surgery and recovered just as strong if not stronger. Peterson had knee surgery last December (2011) and was able to start in the Vikings 2012 season opener. Below are a list of some current NFL injuries that are perfect candidates for HydroWorx rehab:
The Bengals linebacker, Thomas Howard, tore his ACL during a team practice last week  and has been placed season ending injured reserve list.
Detroit Lions Safety, Louis Delmas, underwent surgery on his left knee Aug. 7, after dealing with tendinitis early on in training camp. He hasn't practiced since the procedure and there is no return date for him as of yet.
Prince Amukamara, corner back for the New York Giants has been dealing with a high ankle sprain and has yet to play in a 2012 season game. He is hoping to make his 2012 season debut soon, after expressing optimisim about his progress and recovery:
"I've been preparing like I'm going to play this week," Amukamara said. "I've been in the meetings and I've been in the lineup [taking reps with the starters at practice]. Those are all good signs to me."
Chris Canty, defensive tackle and Travis Beckum tight end both underwent knee surgeries and were both placed on the reserve/physically-unable-to-perform list. As of the end of August both players have remained where they are and are continuing with their therapy.
Darrelle Revis from the New York Jets, who share a training facility with the Giants, is regarded as the best cornerback in the NFL, tore the ACL in his left knee and will require season-ending surgery.
Pittsburgh Steelers star safety, Troy Polamalu, is no longer on the inactive list, but he did not play against the Raiders this past Sunday due to his calf injury. His expected return date has still not been announced.
James Harrison, Steelers linebacker tweeted the other day that he was able to participate in Tuesday's team practice. This was his first full practice since he underwent arthroscopic knee surgery on Aug. 15.
Steelers Running Back,  Rashard Mendenhall suffered an ACL tear in January and is still in the physical therapy and recovery process.
Football injuries are not to be taken lightly, especially when your team is depending that player or your fantasy team needs them to return. That is why these injuries would be well-served with aquatic therapy to get back out on the field as soon as they can. To stay up to speed on all your NFL news and the
schedules visit here
. Stay tuned for more NFL updates in the next few weeks!
Page Updated on: March 19, 2020