New Wave of Senior Living Housing and Facilities
According to a recent article in the business section of The StarTribune, "Senior housing booms as cities age," by Janet Moore, about 1,100 senior units are under construction in the metro area (Twin Cities) in Minnesota.
Housing developments and facilities that are "custom-made for seniors are springing up across the Twin Cities to accommodate the state's 'silver tsunami'- the 1.5 million baby boomers nearing or now into retirement."
These statistics are staggering! According to the June 30th article, "every day between now and 2031 about 10,000 baby boomers across the country will turn 65- a tempting demographic for the $250 billion senior housing industry."
What's even more staggering is that within 30 years, the number of individuals in the Twin Cities area that are over the age of 65 will double from 307,000 to 770,000. By the end of those 30 years, in 2040, seniors will make up 21 percent of the population.
The types of projects and facilities are only getting bigger and bigger and more expensive each year. For example, one complex in St. Anthony and Crystal, MN represents an investment of close to $50 million.
One barrier to creating these campuses, is adding unique features and amenities to create a comfortable environment for individual's to want to come and stay as well as differentiate from others facilities.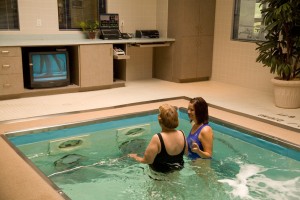 As one architect states, "People don't want to move. They like to stay in their house and if they can't, they like to stay in their neighborhood, and if they can't stay in their neighborhood, they want to stay in the community." They are looking for a safe and comfortable environment.
One facility among the many in this area decided to add a pretty unique feature to try and differentiate themselves. Summit Place Senior Campus is home to a HydroWorx underwater treadmill, which typically sees a great deal of action. "For years, athletes from the Vikings, Wild, Twins and Timberwolves sports teams used the pool-treadmill at the senior complex because there was nothing else like it in the area." Needless to say the aquatic therapy equipment has become a worthy investment for this facility.
Interested in learning more about the rise of senior living communities in this area as well as in the country, read the full article here.
Download the Senior Living Tip Sheet
Warm water therapy offers an effective way to combat falls and provides a valuable benefit to a facility's bottom line. Additionally, using aquatics helps residents become more active, healthy and independent; thus increasing their lengths of stay within assisted and independent types of living. In this tip sheet, you will learn the impact of how water worx for your facility, including:
Therapy services
Falls Reduction
Wellness Programs
Learn why warm water therapy is essential for aging patients' health and your facility's success.