How to Kick Start a New Aquatic Therapy Program Webinar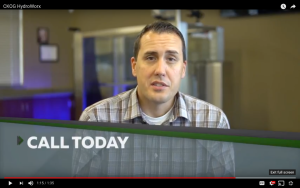 On December 12, 2017, the National Rural Health Association (NRHA) hosted a webinar, that was sponsored by HydroWorx. "How to Kick Start a New Aquatic Therapy Program" was presented by Troy Moore, Owner of Central Kansas Orthopedic Group Physical Therapy and Sports Medicine in Great Bend, KS. Troy recently added aquatic therapy to his clinic and has already seen great growth from adding the modality. During the webinar, he shared many tips and tricks as well as lessons learned.
View the full webinar on-demand now>>
About 3 years ago, Troy was doing aquatic therapy with patients by using a local fitness center. One day, he and a patient walked into the fitness center and the state of the water was not good. He decided he would not put his patient in that day and resolved that he should start offering aquatic therapy in his own clinic. Troy is glad he made that decision because the new program is working out so much better. Here are some of the insights he offered during the webinar.
Starting the process: Figure out if water make sense for you.
Study the needs of your current rehab population.
Decide what you are going to use aquatics for.

Focus on a specific group?
Fitness and therapy?
Running club?

Identify what your current top 10 diagnoses are. Dig into them and see if aquatics will provide value and make a difference in your patients' lives and treatment plans.
Don't assume "if you build it they will come." You need to do your homework and have a plan in place before you start. Specifically, make sure you ask and listen to these particular groups of people:
Your top 10 referral sources
Your current patients
 Staff

Ask your staff if they would use aquatics
Does it fit into their treatment style?
Are they willing to use it on their patients?
Choosing your equipment. Many considerations go into this decision.
Identify if you are able to do construction, what construction may be needed or if you already have adequate space.
Find out if an architect is required for any additions, renovations or new construction.
Go visit sites that have aquatic therapy. You may need to travel a bit, but it is a great way to get tips on what to do, what not to do and layout ideas.
Analyze all of your costs. Run the numbers on the cost of equipment, any construction needed and any opportunity costs. Find out what the Aquatic Therapy CPT code reimburses in your area (for Troy, Medicare pays $43.32 per 15-minute unit). Then develop a proforma to identify how many patients you need to see per day to make it profitable.
Then follow through with your plan. Troy offered,
"I've been pleasantly surprised, and numbers now are better than I anticipated."
Consider your layout. Troy created his layout for easy access directly on the treatment floor by simply removing one treatment table. Here are a few things Troy considered when finding the spot for his aquatic therapy unit:
He wanted it to be easy for a patient to do both land and water therapy.
He wanted people to see it and see how it works. It is great advertising, especially considering 50% of new patients come from existing patients.
He didn't want it behind a wall because then it doesn't get buzz. Having it directly out in the open generates a lot of buzz.
He added a dressing room directly next to the unit to avoid wet areas on the main floor and people walking around in bathing suits.
He identified that privacy was a concern for some patients so added a portable privacy screen.
He decided to create a maintenance room so the equipment could not be seen, heard or smelled.
Customer service offerings. When looking at adding aquatic therapy, it is important to identify what type of service you want to offer your patients. For instance:
Will you provide towels?
Will you offer shorts, shirts, bathing suits?
Will you give them bags for their wet clothing?
Do you want to offer gait monitoring via video?
Will you use additional pool accessories such as weights, steps, and dumbbells?
Maintenance considerations. A pool requires maintenance to ensure that it stays clean and presentable for patients.
Marketing gets the word out. Identify the best avenues to promote your new offering to your client base. Troy found that the following avenues have worked great for him in Great Bend, KS.
Facebook – he created some great viral videos.
Radio – does ads and a monthly radio show covering a multitude of topics in physical therapy
Print – newspaper/small magazine ads
Troy has seen tremendous success with the addition of aquatic therapy in his clinic. In this webinar, he provides great advice on how to implement an aquatics program within your physical therapy practice.
At the end of the webinar, Troy fielded questions from the viewers. Here are a few:
What kind of training did your staff participate in?
We spent a day and EVERYONE got in, including administrative staff, PTs, PTAs, etc. Each spent time in the unit and had to come up with 2-3 open and closed chain exercises to perform.
Do most patients do land and aquatic therapy on the same day?
Most of our patients come in 2 times a week, so they will typically do 1 session in the water and the other on land but about 30-40% do both in the same day.
Have you tried to market the aquatic program to private pay?
I contacted track and cross country coaches in town and some have used it for stress fractures or stress reactions. The plan in 2018 is to look further into it, and start a fitness program in the water.
Do all of your therapists perform aquatic therapy sessions or just an aquatic therapist?
We all use it, but some have different preferences and use it more or less often than others. We do not have one designated person for aquatic therapy.