National Physical Therapy Month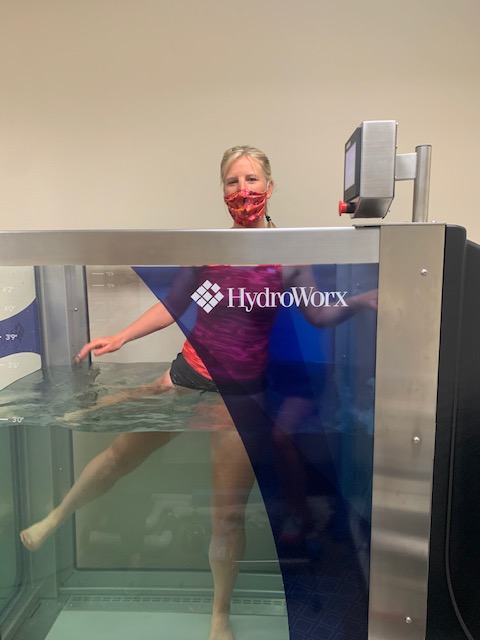 The month of October is National Physical Therapy month which means that physical therapists across the country take time to recognize and raise awareness about the benefits of physical therapy. Many of these physical therapists utilize aquatic therapy to treat their patients and we appreciate all of the physical therapists who choose to use HydroWorx in their clinic or treatment setting.
Several of our physical therapists utilize aquatic therapy because of the many benefits it provides their clients. There are five main ways that aquatic therapy impacts rehab in a beneficial way and these five ways include:
It is an exercise solution for all levels of weight-bearing
It allows rehab to begin sooner in the water than on land which helps reduce inflammation and accelerate the rehab process
Pain is greatly reduced when exercising in warm water
Lean muscle mass and overall leg strength is greatly improved with underwater treadmill exercise
Provides unbelievable rejuvenation and recovery capabilities
The weight-bearing status of a patient can slow down their ability to rehab, especially if they are non or partial weight-bearing. Utilizing aquatics when a patient is in a limited weight-bearing category allows for rehab to begin safely which can do amazing things for both the body and the mind of a patient.
Starting rehab is often the hardest part of the whole rehab process. It is not unusual for the start of a rehab program to be delayed because a patient is non or partial weight-bearing. Physical therapists who utilize aquatics can do the following
Unload a patient's weight in the water
Begin rehab exercises to begin earlier than they would if traditional land-based therapy
As a result of the earlier start, physical therapists can speed up recovery and minimizing the loss of range of motion to the injured joint
The hydrostatic pressure of the water; works to naturally increase circulation, decrease pain, and decrease inflammation.
During aquatic therapy sessions, the patient is working in warm water when they are exercising which greatly reduces pain and leads to unbelievable rejuvenation and recovery capabilities. This is because there is decreased stress on their legs and joints. Exercising on the aquatic treadmill also yields less soreness than land-based exercise.
We have heard that many patients love their aquatic therapy sessions and even during these tough times, they are still continually showing up for appointments. We are proud to have our products installed in several physical therapy clinics and practices throughout the country. To all of the physical therapists that choose HydroWorx each day, thank you, and happy National Physical Therapy Month.