NATA 2016: Three Ways to Win Big
ONE TOOL. FOUR EFFECTIVE USES.
REHAB | RECOVERY | TRAINING | INJURY PREVENTION
We are excited to be heading to Baltimore, MD this year for NATA 2016 and we have some exciting things planned in booth #6023.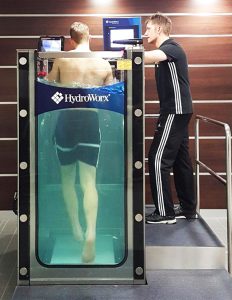 For the first time ever, we will be debuting the NEW HydroWorx 350 at NATA. The construction-free underwater treadmill system is perfect for existing facilities and existing spaces. Check it out and take it for a spin in Booth #6023 and enter to win a prize or two while you're there!
Check out our three ways to win here>>



About the 350:
More Depth. More Power. More Space. 
The 350 requires a small footprint and offers:
Underwater treadmill, 7″ longer than the standard 300, with speeds ranging from 0.1-10 mph
A 40% stronger resistance jet than the standard 300 with deep tissue massage
Freedom to perform multi-directional exercises such as side shuffling, backpedaling, carioca and upper extremity movements
Safely and precisely adjust unweighting levels from 20%-90% with the touch of a button as athletes progress
To get a closer look at the advantages this small-footprint unit offers, we invite you to schedule a 15 minute demonstration in the exhibit hall. You can even bring your suit to experience it for yourself! In exchange for your time you'll receive a free t-shirt and 5 additional entries into our giveaway drawing!