MS Patients and HydroWorx
The following article has been contributed by Nicholas Drey, MS, Director of Wellness at Walnut Ridge Senior Community, Clive, IA.
MS Patients and the HydroWorx Pool
Individuals diagnosed with MS find exercise or movement in general, a very difficult task to achieve. Being able to move freely is a task easier said than done. However, there is an atmosphere that does allow a freer range of motion; the water!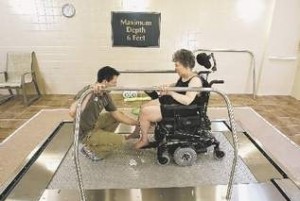 Having worked with several MS patients in our Hydroworx 1200 Series Pool, I can tell you the environment that it creates for them is amazing. There are so many more exercises and movements that we can try in the water that would not be conducive to try on land. In-turn and over-time, we have been able to transfer many of our movements and exercises to land which has been more than gratifying to the patient.
One of the most beneficial aspects that the Hydroworx helps with is the patient's gait pattern. Having a treadmill belt in the water does a couple of things. First, it supplies a workload of a certain speed and water depth that the patient must maintain.
Second, it helps with stride frequency and stride length. As the patient is able to perform a more proper gait pattern in the water, the muscle memory aspect of exercise helps to transfer this movement to land. Getting the immediate feedback from the video console also helps with the teaching and instruction.
Is the movement and walking as good in water as it is on land, no. But giving the patient a mindset that they are improving is a major psychological boost. They are able to transfer more movements from the water to land and thus making everyday movements that much easier.
The workload of the patient should be a very gradual increase. They know their body better than most and they can tell you when they are ready and able for a little more. It is then the trainer's job to determine what that increase should be, and meshing the FITT principle concepts with the workout regimen.
# # #
About Nicholas Drey…
In addition to being the Director of Wellness at Walnut Ridge Senior Community, Clive, IA, Nicholas Drey holds a Master's Degree in Exercise Science from Wayne State College (NE) and is ACSM certified as a Health/Fitness Specialist.  He has been a Health/Fitness Coordinator at Mercy Medical Center, Cedar Rapids, IA, as well as an adjunct instructor at Coe College.
Page Updated on: June 9th, 2020