Mom of Three Uses Aquatic Therapy to Keep Up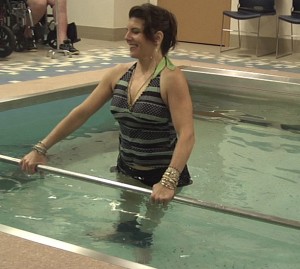 Kim, a single mom of three, does all the things that any mom of three needs to do. She humbly talks of doing the things that moms do to keep up with their busy teenagers. She travels, hours away, to visit her daughter at college. She works the typical 8-hour days and she shines while doing it. But Kim does all of this while dealing with the effects of Multiple Sclerosis (MS). These effects cause her to use crutches to get around at work and home and to use a wheelchair for longer travels. She noticed around a year ago that her legs weren't working the way she wanted them to and she knew she had to be proactive to improve her situation.
She got in touch with Barb Cacia, Wellness Coordinator at Pieters Family Life Center, for assistance. Barb wanted to help Kim and knew the pool could be extremely beneficial, but also that there were some potential problems with warm water and MS. Extreme heat can have negative effects on MS patients and can actually drain them of their energy.  Barb insisted on testing Kim to make sure that exercise in warm water would not hinder her progress. To Kim's excitement, the warm water was tolerable and she was able to begin aquatic therapy sessions with Barb. For the past year they have been working hard on improving her core and hip strength and have seen great results.
Her ultimate goal is to walk on her own again and she is thankful to have inspirational stories such as Chuck Ciraolo (link here), to keep her going. For now, she works dutifully at strengthening her core, increasing her ankle strength as well as walking with the help of the buoyancy of the water and some floatation devices.
Barb works with Kim to give her hope, to give her strength and to give her independence.
Watch Kim's story and her aquatic sessions below:
Watch more videos, like this one, detailing how aquatic therapy benefits patients with Multiple Sclerosis>>