Minnesota Vikings Contrast and Regeneration Therapy using NEW Custom Plunge Pools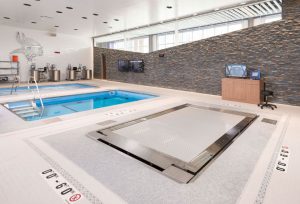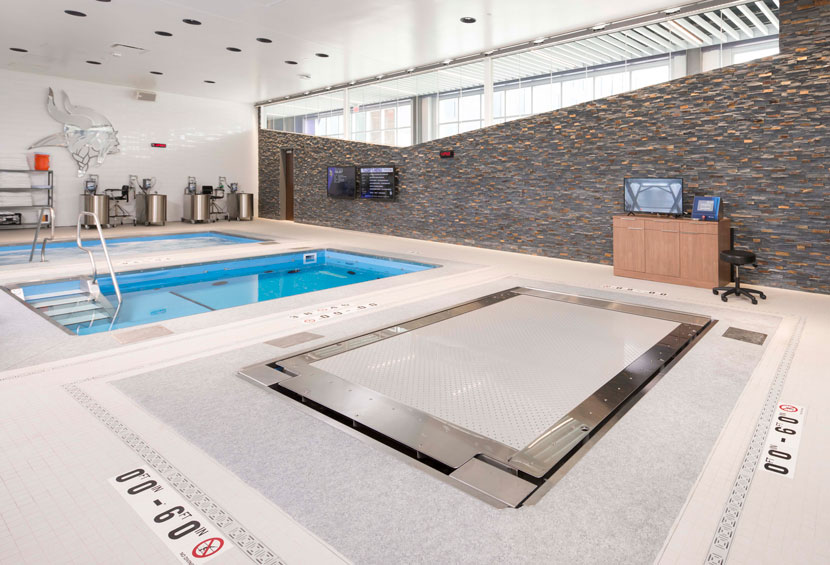 An athlete's ability to train is only as good as his or her ability to recover from that training.
In this article, we'll take a look at what one of the country's top sports performance centers is doing with contrast and regeneration therapy to maximize athlete recovery. Peek into the Minnesota Vikings' recently upgraded facility, which includes two new plunge pools and learn what features make these pools a "must" for high performance training rooms.
Hydrotherapy at the highest levels  
Hydrotherapy pools, says Lance Walker, MS, PT, and global director of performance at Michael Johnson Performance in McKinney, Texas, allow trainers to "prep" athlete's tissue before exercise. Walker claims that by incorporating a quick dip in a thermal pool prior to exercise, an athlete sustains less tissue damage throughout the process of training.
"Thermal plunge pools are something most of our professional athletes are using," says Walker. "Our athletes head for them right away, when they first hit the door. We call it 'tissue prep.' We're then using the contrasting baths after training to expedite the recovery process, minimize that tissue damage and improve their ability to come back to the next day of training."
Walker calls this pre- and post- aquatic therapy a nice "sandwich" to the "meat" of the training; an optimizer or catalyst to improved training outcomes—its key function being to prepare the athlete for training and help him recover after training which allows him to do more, longer, harder. Says Walker, "I can't imagine a training facility at a high-performance level not doing some sort of hydrotherapy, be it contrasting after or thermal plunges before."
"We use the cold tub specifically for some of the athletes who train twice a day. It starts that regeneration process and reduces inflammation and some of the biproducts that have accumulated in the muscles, preparing them for the afternoon workouts.
"We're an evidence-based practice," says Walker. "I've found in the regeneration space, the science is 10-15 years behind the practice. Watch our professional athletes go into those pools—they know their bodies. I don't have to tell them to get in the pools. They already do it on their own. They seek it out because they know from experience that it's effective."
Vikings new additions
Case in point—the Minnesota Vikings. This football team has recently built an amazing new performance center and as a part of it they invested in a HydroWorx custom PolarPlunge and ThermalPlunge pools to help their athletes and trainers manage the intense physical demands and high-speed pounding of American football. See photos below of their new poolroom.
HydroWorx customizable plunge pools
All plunge pools are not created equal. HydroWorx thermal and polar plunge pools are customizable, designed to replace existing plunge pools or enhance a training room with a configuration unique to a team's needs. Each pool comes standard with jets which can be strategically positioned to any format—including trigger-point patters for a soothing massage.
HydroWorx's Polar Chiller systems keep water temperatures at a therapeutic 50 degrees to help control joint inflammation and enhance muscle recovery. Thermal heating units are engineered to distribute warm or hot water to relax tight muscles and stimulate the release of endorphins. Customized ladders, stairs, and benches make for easy entry. Liners, lights and logos elevate the asthetics of any training room.
For more information about plunge pools, their uses, science behind them and success stories, please visit https://www.hydroworx.com/products/thermalplunge-polarplunge/