4 Lessons Learned From an Aging Athlete
The following is a post written by, Mike Studer, PT, MHS, NCS, CEEAA, and President and co-owner of Northwest Rehabilitation Associates, in Oregon.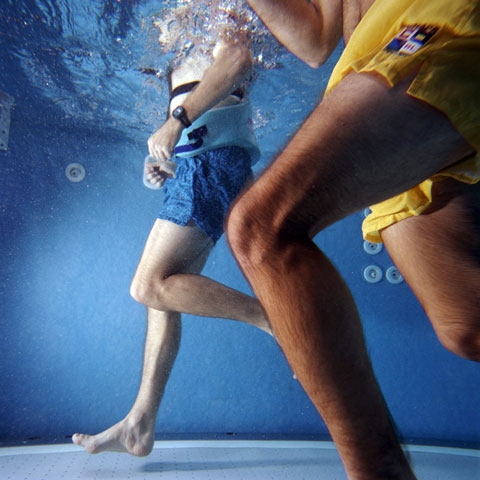 In 2013, I posted a series of blogs about a local masters-level runner that had aspirations of running 13 separate half marathons (13.1 miles).  If you recall, he achieved this goal (plus 2 marathons), through regular recovery weeks and taper weeks using our HydroWorx 500 Series pool. Atop of this grueling race season, at the age of 44 (with nearly two decades of racing under his belt) this athlete set a PR for Half-Marathon at 1:23:02 in 2013.
Here are some of the lessons learned from how he used the underwater treadmill to his advantage in 2013, and how he is preparing for the 2014 season.
The underwater treadmill should be used regularly in a training plan to add an extra day of sport-specific cardiovascular training when the body would be otherwise too fatigued due to breakdown of the muscular system.
HydroWorx technology is essential for challenging your form and range of motion as the body fatigues throughout a long race season or marathon training plan.
Underwater treadmill running is an excellent substitute for interval workouts, especially when the weather is not accommodating.
Using the underwater treadmill in taper and recovery weeks keeps an athlete training through a race reason without dramatic mileage variance.
At the end of the race season, we were informed that our athlete won the points competition in the inaugural Baker's Dozen Half Marathon series Master's division – a testament to his training plan.
Already this year, our runner has participated in one half-marathon and another 15k already. He has his sights on a marathon PR this year (2:56) and, with an intelligent training plan, incorporating the HydroWorx technology…he just might make it!
Join Us for a Free Upcoming Webcast!
Tony Testa, Director of Sports Medicine at Seton Hall University, will be presenting the live webcast, "Progression of Running Drills Using the Underwater Treadmill," March 27, 2014 from 3:00-4:00pm EST.  During this webcast, which is streamed live from the HydroWorx pool, participants will learn the varied drills and progressions used at Seton Hall University for training speed and agility while running underwater. The presentation will progress from a general warm up in the ThermalPlunge pool to acceleration and change of direction drills in the 500 Series therapy pool and then finish with a post training cool down in the PolarPlunge pool. It will also review how to vary speed and endurance days and progression through the cycle.