Mercy Fort Scott Uses the Versatility of the Underwater Treadmill
Mercy Health for Life has been up and running with their new HydroWorx 300 for approximately one month. The response they have seen to the underwater treadmill has been amazing.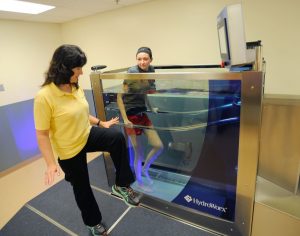 Their program consists of physical therapy patients who can benefit from aquatic therapy, as well as fitness members who are able to use the underwater treadmill as a part of their membership. The versatility of the product means that it can be used for an aging adult recovering from knee surgery to an elite athlete such as Devonte Wilson, who uses it for strength and conditioning benefits.
"For years we had envisioned the ability to offer aquatic therapy not only with our patients but with others in the community who could also benefit from this form of exercise. Now, our plan is in place and we're thrilled to see how it's already helped so many of our neighbors and friends." – Kirk Sharp, Rehab Manager, Mercy Fort Scott
Athletes, such as Devonte, with full mobility can run at 10mph with resistance jets to get an extremely challenging workout without the impact on their joints that would occur on land. Yet, some individuals use aquatic exercise just to gain the benefits of the warm water, hydrostatic pressure and buoyancy or even a deep tissue massage.
Take, for instance, this amazing story from Mercy Health for Life of a patient who was paralyzed in a roadside accident in 2002. By utilizing this technology, Pechone Stepps is finding ways to improve his walking skills despite being confined to a wheelchair on land.
"I'm very impressed with what it offers. HydroWorx offers passive-active assisted and active therapy simultaneously. The aquatic treatment allows for a promotion of joint mobility and soft tissue mobility. I like it because you can work on motion mechanics and proprioception while controlling the amount of soft tissue loading." – Greg King, Orthopedic Nurse Practitioner, Mercy Fort Scott
The staff at Mercy Fort Scott has discovered that although other facilities may offer aquatic therapy or aquatics in some capacity, the advantage really comes with having the added technology of the underwater treadmill and the privacy and individualized care in a comfortable environment rather than in a full class setting.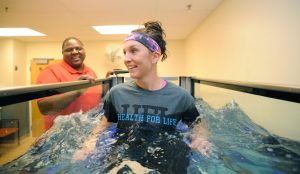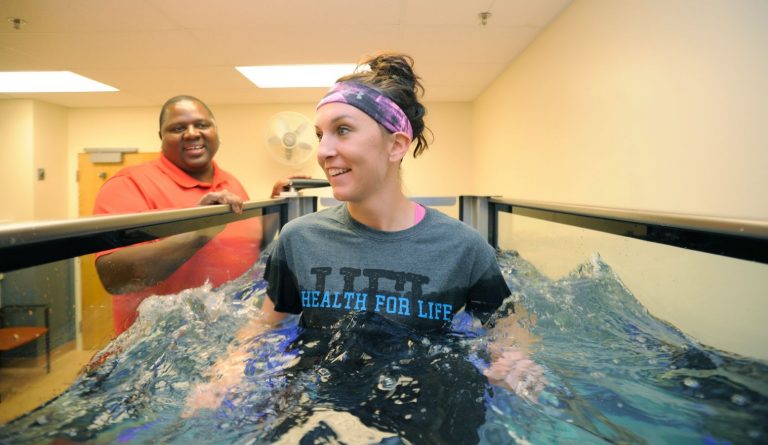 According to Sharp, "We have already had patients disappointed when their therapy sessions don't include aquatic therapy because in a short time, they have grown to love it so much." The referring doctors are loving it too, with many referrals coming from physicians both inside and outside the organization. In fact, some patients are coming specifically for the expertise and aquatic technology that Mercy Fort Scott can provide.
For those looking for a facility to use an underwater treadmill, find a HydroWorx product near you by using our zip code locator>>