Meet with HydroWorx at ISAKOS
What is ISAKOS?
ISAKOS stands for, International Society of Arthroscopy, Knee Surgery and Orthopaedic Sports Medicine. "This organization is an international society of surgeons established to advance the worldwide exchange and dissemination of education, research and patient care in arthroscopy, knee surgery and orthopaedic sports medicine." May 12-16, 2013 the 2013 ISAKOS Biennial Congress will be taking place in Toronto, Canada where more than 4,000 orthopaedic surgeons, allied health personnel, physical therapists and more will gather to network and discuss ideas with experts around the world.
HydroWorx will be among the exhibitors next week, located at Booth #514, where our very own, Kim Willing (International Sales Director) will be offering information about the benefits of warm water aquatic therapy for your patients. Utilizing aquatic therapy allows for early intervention after an injury or surgery, as well as numerous other therapeutic advantages. Additionally, by stopping by our booth (514), you will have the chance to enter a drawing for a $100 gift card!
Below is a video which demonstrates how- to waterproof a fresh surgical site in order for the patient to receive aquatic therapy immediately after surgery.
Free Webinar: Use of Aquatics for Improving Linear Speed Mechanics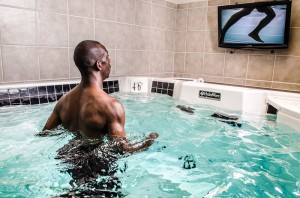 On May 21, 2013 from 12:30pm to 1:30pm EDT join our co-presenters Lance Walker, Director of Performance for Michael Johnson Performance and Lindsey Anderson, Linear Speed Specialist for Michael Johnson Performance, for this webinar on improving speed mechanics in water.
The participant will be introduced to general concepts of linear speed training, including acceleration and absolute speed mechanics. Participants will also learn how a coach, athletic trainer, physical therapist, or performance trainer can use aquatics as an additional effective training modality in teaching and improving elements of speed in athletes of all levels. Register Today!