Meet the Third Nominee FOR THE 2016 HEALTHCARE EXCELLENCE IN AQUATICS AWARD
During the next few weeks of open voting, we will be sharing the story of each nominee of the 2016 Healthcare Excellence in Aquatics Award. The nominees are being introduced in alphabetical order.
Our third nominee is: Lexington Regional Health Center for Innovative Co-Treatment for a Patient with Rett Syndrome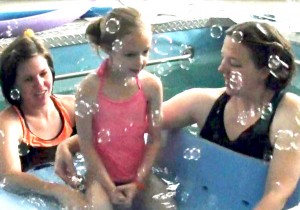 Imagine being trapped in a body where you were slowly losing control of your muscles, and every sight, sound and smell was amplified.  You'd feel overwhelmed and at odds with the world around you, unable to fully participate in and focus on the joys of everyday life.  This is the way that children with Rett Syndrome experience their surroundings.  Rett Syndrome slowly robs those diagnosed with the condition of strength, balance, gait normalization and even basic communication and verbal skills.  There is no cure for Rett Syndrome, but there is always hope.  This is especially true when you have a team devoted to you, as did one little girl with Rett Syndrome who is receiving care at Lexington Regional Health Center.
Hadley was brought to the physical, speech and occupational therapists at Lexington Regional when she was five.  She constantly wrung her hands, a symptom frequently seen with Rett Syndrome.  She had a large vocabulary, but could only use a few single words and phrases to communicate with intent.  Eye contact was minimal, at best.  Yet her mother wanted her daughter to have all the advantages of independence as possible, including ascending and descending stairs, sitting at the table during mealtimes, and being able to let people know what she felt and wanted.  Hadley was preparing to begin kindergarten starting with half-days, with the goal of being able to be in school full-time when able, so the time was right for her to get the best care she could.
The team at Lexington Regional, including Errin Nelson, DPT, Maura Rabe, OT, Kiley Goff, SLP, and Leeann Smith, PTA, started Hadley with land and aquatic based therapies, using their facility's HydroWorx therapy pool once a week starting in mid-2014, a treatment protocol that continues to this day.  Unlike other children who exhibit anxiety when entering the pool, Hadley had no fear, which made safety an immediate issue.  Her physical therapy team was quick to learn her cues, though, and with constant supervision, any worries about her time in the water were removed.
As part of her hydrotherapy in the HydroWorx, Hadley was allowed to explore the aquatic environment.  When she was exhibiting symptoms of sensory overload, her therapy team took unique measures to help Hadley relax, turning off the overhead lights and utilizing the soothing massage hose and resistance jets.  When she could release her tension, she was more able to work on tasks like kicking to cross the pool, jumping in shallow water, going up and down the pool stairs, sitting and even rolling on a large flotation mat, and playing with a beach ball and bubbles. She can sort shapes, colors, letters and numbers, all relating to things she does at school. Hadley doesn't know it, but what she sees as "work" and "play" have meaning for her land-based activities.
In 2015, the speech therapist working with her also joined in for some pool sessions, challenging her to begin using words appropriately and meaningfully.  This dual style of therapy has shown great outcomes.  Today, at seven years old, Hadley has increased her time in school to more than six hours a week as a first grader.  She climbs in and out of the car by herself, and wrings her hands only when frustrated or upset. Her love of music has grown, and she sings "Jesus Loves Me" and "You Are My Sunshine."  Best of all, she can now convey what she wants, either by speaking or taking a person by the hand and directing them accordingly.  These are all functional skills that she lacked just two years ago.  Despite her Rett Syndrome, Hadley has been given a new outlook thanks to progressive, creative aquatic therapy.