Meet the Second Nominee for the 2016 Healthcare Excellence in Aquatics Award
During the next few weeks of open voting, we will be sharing the expanded story of each nominee of the 2016 Healthcare Excellence in Aquatics Award. The nominees are being introduced in alphabetical order.
Our second nominee is: Leg Up Farm for Helping a Pediatric Patient Conquer His Fears to Achieve Life Changing Results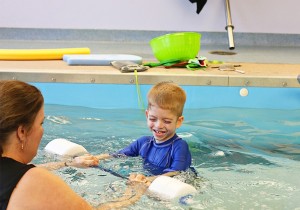 No one should have to live with fear, especially a child.  Yet for Dylan, who is now five-and-a-half years old, fear of the water was keeping him from accessing aquatic therapy which he desperately needed.  In fact, for 10 long months, he was completely resistant to any kind of hydrotherapy.  Dylan has a congenital condition that tightens his muscles, limiting his mobility and causing great discomfort.  The team at Leg Up Farm, a non-profit therapy center in York County, PA, knew that if they could just get him in the warmth of their HydroWorx therapy pool, they could help him improve his life. However, they were at a loss as to how they could entice him to the pool… until Melissa Andersen thought up some creative tactics.
Melissa, a physical therapist at Leg Up Farm, knew that Dylan was uncooperative, but she also knew that he had the imagination of any youngster.  She and her fellow colleagues decided to make it their mission to get Dylan to love being in the water so he could begin to gain independence on land and rely less on his wheelchair and posterior walker.  The solution?  Make physical therapy more of a game than a chore and start to look at life from a young person's imaginative perspective.  Within five months, Dylan was no longer afraid; instead, he was walking and standing in the water, doing "monkey swings" using the support bar, chasing boats, throwing balls and hopping – pain free.  His muscles are getting the workouts they require to build his strength, endurance and balance, but all he knows is that physical therapy sessions are like recess!
From a physical rehabilitation perspective, Dylan's results at Leg Up Farm have allowed him to move in the pool just as his typically developing peers would.  When he is in the HydroWorx pool, he's free to roam around without assistance, sometimes even rushing away from the therapist in a fun, impromptu game of water tag.  Outside the pool, he is using his new found abilities to walk from class to class at school and use his wheelchair occasionally. He even rock climbs at his school, something he couldn't have done before his muscles were built by systematic hydrotherapy.
Some of the strategies that the team members at Leg Up Farm have used to help Dylan overcome his anxieties associated with water and finally make progress include:
Practicing locomotion in the pool in different water depths by crawling on hands and knees, kneel walking, cruising and walking with a variety of supports including his hands and assistive devices like floating dumbbells.
Enjoying sports-themed protocols like throwing and catching balls, using flotation bar bells to do rows and utilizing the kickboard to try prone kicking.
Engaging in splashing contests with his physical therapist using the barbells or noodles, as well as throwing contests.
Dylan's journey is just beginning, and there's no telling how far he can go now that he has conquered his fear of the water.  With the help of Leg Up Farm, his nurse (who accompanies him to all his sessions) and his supportive family, there's no telling how he will change his own life throughout the years, as well as touch others' lives.