Meet the Fourth Nominee For the 2016 Healthcare Excellence in Aquatic Award
During the weeks of open voting, we have been sharing the stories of each nominee of the 2016 Healthcare Excellence in Aquatics Award. The nominees have been introduced in alphabetical order.
Our fourth and final nominee is: Orthopedic Rehab Inc. for the Rehabilitation of a Patient after a Multiple Trauma Accident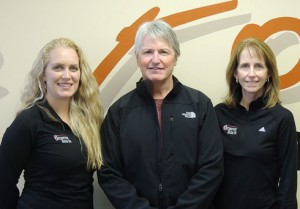 Near-death accidents happen, and not everyone is as fortunate as one 54-year-old Montana logger who fell 40 feet from a tree in September 2013.  By the time he arrived at Harborview Medical Center in Seattle, WA, via life flight, he was given a lower than 50 percent chance of survival, leading medical personnel to delay any surgical treatment on his vast injuries.  Eventually, he was stabilized and began the mentally and physically grueling process of undergoing multiple surgeries to repair his broken body.  Within three months, he was able to start land-based physical therapy, but by February 2014, he needed something else to help him reach his goals of returning to logging, hunting and playing softball.
The team at Orthopedic Rehab Inc. was there to give this patient innovative therapy using their HydroWorx pool.  Their focus was mainly on gait training, especially after the way his 19 surgeries left him unstable on his feet.  Physical therapist Teresa Kropp and physical therapist assistant Alyssa Kranz began his sessions in a non-weight bearing, low impact aquatic environment by having him slowly walk backwards, forward and sideways on the treadmill slowly.  Over the course of his five months of rehabilitation, they added lower extremity and core strengthening exercises, including step-up and overs and upper extremity protocols.  To improve his balance and endurance, they varied the resistance of the jets to give him the resilience he needed to navigate uneven terrain on land.
The road wasn't easy, but the inclusion of aquatics into his treatment program provided him with an avenue to regularly experience demonstrable successes and positive reinforcement.  Kropp and Kranz have found that these elements are necessary for good outcomes for all patients, and especially those who have faced traumatic injuries involving major life disruptions.  By meeting with him two times a week for aquatic therapy, his physical therapy supporters at Orthopedic Rehab Inc. were able to motivate him so he could see the proverbial light at the end of the tunnel.
As of today, he is a changed man.  He can walk up and down steps with confidence, hike throughout his beloved woods and even participate in softball.  Despite his fall, he has returned to his job as a logger on a part-time basis.  He also enjoys archery, something important to him as a source of relaxation and stress-relief.  Best of all, he has gained a new lease on what could have been a life that was needlessly interrupted by tragedy.