Meet the First Nominee for the 2016 Healthcare Excellence in Aquatics Award
During the next few weeks of open voting, we will be sharing the expanded story of each nominee of the 2016 Healthcare Excellence in Aquatics Award. The nominees are being introduced in alphabetical order.
Our first nominee is: IU Health La Porte Hospital for the Life-Altering Rehabilitation of a 67-year-old Patient
What clinicians do for their clients can go far beyond the rehabilitation setting, positively affecting those clients' lives in transformative, meaningful ways.  For Erica McMahan, a PTA from IU Health LaPorte Hospital in LaPorte, Indiana, this fact was brought to light when she began working with a 67-year-old patient who was recovering from hip surgery and a heart attack.  Little did McMahan know that her innovative use of their HydroWorx therapy pool would help her client overcome an emotional crisis.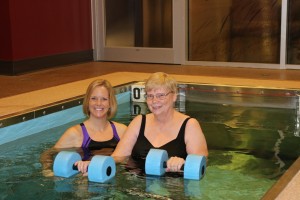 When McMahan met her senior-age client in mid-September 2015, she learned of the woman's total left hip replacement, history of rheumatoid arthritis and recent myocardial infraction, also known as a heart attack.  But she also heard from her client's lips a story of despondency.  The client was in a deep depression due to her physical ailments and constant pain.  Although the client was working with a psychologist to discuss her feelings, she was certain there was no real chance of a brighter tomorrow.
As McMahan started working with her new client, keeping in mind her cardiac responses during each session, the client's depressive mood slowly began to lift, buoyed by the realization that hope was at hand.  Exercises, protocols and motions in the warm water, so difficult for her on land, were easier in the pool environment.  Over time, the client made progress to the point where she was having fewer gait and balance problems, her core stabilization improved, her cardiovascular endurance increased. Her weight has also stabilized (and is now on a trajectory toward a healthier weight) and her reported pain in her left hip went from a rate of nine out of ten to zero out of ten when resting.
She has gained strength, function and a return to normal activities of daily living.  From a subjective standpoint, the client feels that she has achieved her ultimate goal, which was to move with ease.  Though she still suffers from the pain of arthritis at times, she is planning for an exciting future filled with travels to the western United States and other possibilities.  In time, she will require another total hip replacement surgery on her right hip, but she is less worried about the outcomes of her next surgical intervention thanks to her experiences in the HydroWorx therapy pool.
As with all of our 2016 Healthcare Excellence in Aquatics nominees, we salute Erica McMahan and the team at IU Health La Porte and their determination to help this client achieve not only better mobility, but a stronger sense of well-being.  Clinicians' case studies, like that told by McMahan, illustrate just how powerful warm water therapy and exercise can be for someone suffering.  Says McMahan of the experience, "There are those rare occasions when I truly feel that I have changed someone's life.  This therapy, this pool and my guidance may have actually saved her life."