Meet with HydroWorx at Rehab Summit
Cross Country Education is proud to present the 8th Annual Rehab Summit this week in Nashville,TN, and HydroWorx is excited to be an exhibitor again this year. Cross Country Education is "Leading the Way in Continuing Education And Professional Development" for healthcare professionals. For rehabilitation therapy, they have conducted over 12,000 one-day seminars with over 400,000 attendees! Rehab Summit is a three-day conference and expo that brings together highly qualified rehabilitation professionals from multiple disciplines, creating a great educational and networking experience for all in attendance. The majority of the attendees are physical therapists and physical therapist assistants, followed by occupational therapists and athletic trainers. We hope you will stop by the HydroWorx booth #307 while you are in town!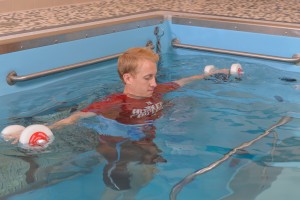 Finding ways to set your clinic apart from competitors is a key to your facility's success. Offering aquatic therapy to your patients could be a distinct advantage to set you apart. Not only has it been proven to enhance rehab outcomes, but it can also be a very profitable addition to your clinic's toolkit. Stop by booth #307 to learn more!
Are you interested in learning more about the power of aquatic therapy?
In addition to HydroWorx exhibiting at the expo, one of our many loyal and talented customers will be presenting an educational session. Join Veronica Paquette, PT and Owner of Essex Aquatic and Rehab Center in Essex Junction, VT for the informative session titled, "The Power of Water- Aquatic Shoulder Rehabilitation." Paquette's presentation will be held Friday July 25, 2014 from 11:45am to 1:30pm in the exhibit hall during lunch. Her educational session will review the physical properties of water and how they impact a patient's aquatic session. The majority of the session will be spent offering a variety of aquatic exercises specific to the shoulder/ upper extremities. These exercises will progress from standing, supine, and prone activities with instruction on progression of activities utilizing a variety of aquatic equipment. A treatment flow sheet will also be provided for participants to use with their clients. 
We hope to see you in the music capital of the world this week!
Upcoming Free Webinar: How to Make Aquatic Therapy Profitable
On August 12, 2014 from 1:00pm to 2:00pm EDT, Veronica Paquette, PT, Owner of Essex Aquatic & Rehab Center, will be presenting the free webinar, "How to Make Aquatic Therapy Profitable.". This webinar will help you compare possible monthly expenses and potential generated income. With the ever changing reimbursement rates, there will be ideas to help generate additional revenue to your business outside of physical therapy income. It will also review maintenance requirements for a small therapy pool.