Manchester City FC Ankle Fracture and Dislocation Case Study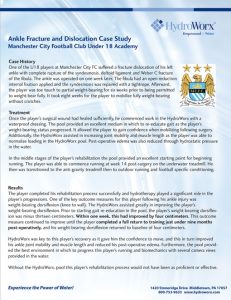 Ankle fractures with dislocations are complicated and range dramatically in severity. One player for the Manchester City FC Under 18 Academy suffered an ankle fracture with dislocation and had surgery one week later. His injuries included a complete rupture of the syndesmosis and deltoid ligament and a Weber C fracture of the fibula.
Download the full case study here>>
After the wound had healed, the football player used the HydroWorx underwater treadmill to begin rehabilitation and bridge the gap between rehab and full weight-bearing on land.
Some of the advantages of using the HydroWorx that enhance recovery and allow an athlete a quicker return to play come from the natural properties of water such as:
Buoyancy

The natural buoyant property of water allows even those that are only toe touch or partial weight-bearing after an injury or surgery to work on sport-specific skills before being able to do so on land.
This also allows athletes to gain confidence as they progress with little to no pain thanks to the reduced pressure on the injured extremity.

Hydrostatic Pressure

The force of the water on the body is similar to having 17 bandages wrapped around it. This helps to reduce swelling which is particularly helpful in reducing pain and increasing range of motion in an affected area.
This also increases venous return and improves cardiovascular fitness.

Resistance

The natural resistance of the water provides an environment where balance can be challenged. As movements increase in the water, or resistance jets are used, the movement of the water provides a challenge to the core and lower body to maintain position.
This also improves strength in the water as extremities need to work harder in water than air to do similar activities.
This case study from MCFC details how using the HydroWorx after surgery impacted the player's rehabilitation and return to play.
From the case study:
"HydroWorx was key to this player's recovery as it gave him the confidence to move, and this in turn improved his ankle joint mobility and muscle length and reduced his post-operative edema. Furthermore, the pool provided the best environment in which to progress this player's running and biomechanics with several camera views provided in the water.

Without the HydroWorx pool, this player's rehabilitation process would not have been as proficient or effective."
Download the full case study to see the results of this football player's rehab>>