Managing Chronic Pain Using Aquatics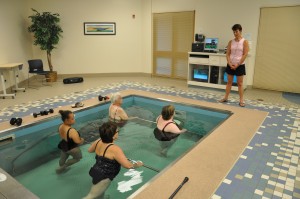 The following post is summarized from the recent article, "A new kind of holy water," written by Barb Cacia, BS Ed., Wellness Coordinator at Pieters Family Life Center, and published online for McKnight's.
Barb Cacia has spent many years helping individuals manage chronic pain by focusing on movement and incorporating sleep, nutrition and thought control into her programs. Aquatic therapy has been a key component of her programs due to they natural properties of water that are so beneficial for those with chronic pain. The warmth of the water coupled with the water's buoyancy, which removes up to 100% of a person's bodyweight, provides the freedom to move without pain.
When Barb discovered the HydroWorx 2000 Series pool at Pieter's Family Life Center, she found that she could serve the community in multiple different ways. The technology combined with the warm water had impressive psychological and physiological benefits to those with chronic pain. Pieter's Family Life Center now serves the community in a variety of ways with their aquatic program:
Traditional physical therapy
Public access
Fitness classes
Balance classes
One-on-one sessions
Chronic pain affects up to 85% of older adults and can cause depression, anxiety and social isolation. Barb has found that using aquatic therapy as a component of managing one's chronic pain can be beneficial in tackling these symptoms.