Major Car Accident Victim Saw Remarkable Progress with Aquatic Therapy
An interview with Keith McCrate, PT, Director of Therapy, Presbyterian Village North(PVN), Dallas TX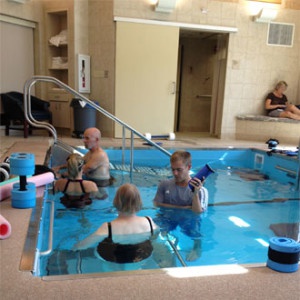 HydroWorx (HW):     Tell us about a patient that has benefitted from aquatic therapy and your HydroWorx pool:
Keith McGrate (KM): A patient came to us recently who had been involved in a major car crash. She was in her 60s, active, strong, still working and very, very motivated to improve. She ended up having four orthopedic surgeries; a left shoulder replacement, right hand reconstruction, and reconstruction of bi-lateral, multiple fractures all along her tibia and fibula as well as her femurs.
She came to our facility when she was in a very basic condition—non-weight bearing on all four extremities. When we felt she could tolerate the water, we asked her surgeons if we could get her in the HydroWorx pool. They let us be pretty aggressive with it.
HW:      What was her condition when you started aquatic therapy?
KM:      When we started, she was a functional quadriplegic, she could not do anything for herself. Gradually, she started to make good progress in the water: sitting balance, slide board transfers, those kinds of things started to take off. When we got toe-touch weight bearing, we requested the physician to allow us to actually walk her in the water. So for the next 30 days, we did walking on the treadmill every day, a lot of aggressive strengthening underwater.  We saw just remarkable progress from that.  Seeing her face light up the first couple steps in the water was amazing. Watching her legs work under water was just tremendous.
HW:      Did you use the video monitor system and, if so, how did that impact her recovery?
KM:      Yes, and there's something with seeing yourself on video that is different that when you take 10 steps across the gym.  We've all been on film and thought, "Ooooh, do I really look like that? Do I really sound like that?"  What we have in our mental picture is very different from the external picture. Looking at the external picture for her on screen, in real time watching her legs working, that was different than perceiving your legs walking with your internal picture. That was a break-down moment when she saw herself walking again.
HW:      How long did she stay at PVN?
KM:      We spent about 80 days total with her. And to take somebody from no weight-bearing quadriplegic to walking? It was special. And it was the therapist and all the loving people around here that really made the difference for her. We celebrated her birthday on campus. During the time she was here, she really became like family.
HW:      What's the latest in her story?
KM:      She's back in her home state, working and doing everything she used to. She flies to Dallas once a month for the reconstruction of her hand to get that full function. She came and visited us, walking without a walker and you wouldn't have ever guessed what she has been through.
HW:      What advice would you give other directors of therapy of PTs about aquatic therapy?
KM:      I had to be pulled into this hydrotherapy kicking and screaming. Sometimes PTs don't want to admit they need help from someone or something else, like an aquatics program, thinking they are skilled enough to help any patient. And a lot of therapists don't want to get in a bathing suit in the water—they've never had that experience. They've never actually seen the benefit of it, so as the director of therapy, you have to begin by just saying, "You're getting this person in, and let's see how it goes." Once the therapist starts seeing results, then the floodgates will open.
Hear more about how the HydroWorx pool at Presbyterian Village North has impacted their success:
To learn more about Presbyterian Village North's success with aquatic therapy, download our customer profile>>