Lumbosacral Sprain and Severe Thoracic Pain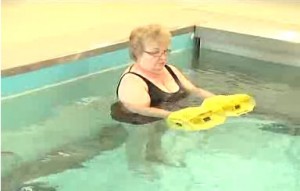 We're pulling a case study from the archives today! Lower back pain is something that 31 million Americans experience at any given time, according to the American Chiropractic Association. It is also expected that 80% of Americans will experience a back problem at some point in their lives. The severity and consequences of the back pain varies greatly for each person.
For one back pain sufferer, Carolyn, the pain was so severe at one point she actually felt that dying would have been a better alternative. Thanks to aquatic therapy at Geisinger Healthsouth with physical therapist, Tammy Frey, she no longer feels that way and is much more mobile! When Carolyn began her rehabilitation in the HydroWorx 2000, she could barely walk at .5mph and her range of motion was very limited.  After a few months she was up to 2.2 mph, back to full range of motion and pain-free.
The warm 93-degree water of the pool makes it much easier for her to get moving.  Stretching and strengthening exercises are important for her to loosen her tight hip flexors and muscles. Many of these exercises are used to strengthen her core and back safely. After a great workout, including walking at a speed she can't believe, therapy jets are used to relieve and massage any aching or tired back muscles.
Watch the full back pain aquatic therapy case study here: