Looking for Strategies to Treat Low Back Pain? Access this Webinar On-Demand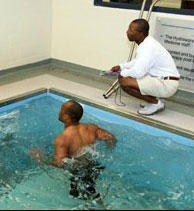 On March 19, 2015, we hosted a webinar titled, "Strategies for Treating Low Back Injuries with Aquatic Therapy." In this webinar, Murphy Grant, MS, LAT, PES Assistant Athletic Director – Sports Medicine and Head Football Athletic Trainer at University of Kansas in Lawrence, KS discussed common injuries to the back and how to use water to treat low back injuries.
"Back pain is one of the great human afflictions." Low back pain can affect nearly 85% of all adults, is one of the most common causes of referral to physical therapy, and one of the leading causes of disability. Because it is a complex region, Murphy spent some time, during the webinar, reviewing the anatomy of the lumbar spine, including common injuries. He also discussed why aquatic therapy is a beneficial modality.
Murphy spent a good amount of time reviewing protocols that can be used in the pool, to treat low back pain. He discussed different protocols specifically for those with lumbar sprains and muscular strains, fractures and dislocations, contusions, and herniated discs and discogenic disease, including things such as:
Working continued mobility through the hip to maintain range of motion
Core stability to simplify movement
Add movement exercises to focus on strengthening
Increase lumbar and thoracic spine mobility and stabilization
Murphy walks through many protocols using video to focus on each of these areas, while identifying key movements on which to focus to make each exercise effective. Murphy has seen a lot of success with aquatic therapy for all types of low back pain. The key to using the pool is to use it as a part of rehabilitation to prepare athletes or patients to get back to their regular activity.
He also gave in depth answers to various questions questions at the end of the webinar, that you won't want to miss. Watch the webinar on-demand to learn strategies and protocols for treating low back pain>>
Kansas University has become a major public research and teaching institution of 28,000 students and 2,600 faculty on five campuses (Lawrence, Kansas City, Overland Park, Wichita, and Salina). Its diverse elements are united by their mission to educate leaders, build healthy communities, and make discoveries that change the world.
Kansas Athletics has brought together an expansive health care team to assist its student athletes with all areas of health care from acute care of orthopedic injuries and illness, rehabilitation, injury prevention, and nutrition to psychological services. The Sports Medicine team is composed of certified athletic trainers, physicians, a nutritionist, psychologist and physical therapist along with an accredited student athletic training education program. Kansas Athletics has one of the largest sports medicine staff in the Big XII with 14 certified athletic trainers, 50+ student athletic trainers with 3 full time athletic training instructors, a sport psychologist and nutritionist, over dozen physicians ranging from orthopedic surgeons, dermatologists, and general practitioners to optometrists, dentists and other medical specialists.