Kennedy Krieger Patient Reaps Benefits of Aqua-Therapy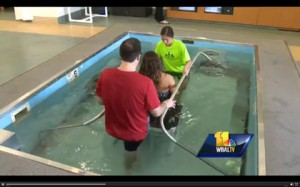 The following post is summarized from the recent WBALTV video and article, "Aqua-therapy helps girl, 14, learn to walk again."
Those who have utilized aquatic therapy for rehabilitation or exercise understand the positive impact it can have. For one patient in particular, the use of water therapy has been life-changing. Fourteen year-old, Delaney Bosworth, was diagnosed three years ago with a rare condition called transverse myelitis (TM). The disease attacked her spinal cord and left her paralyzed.
Since the time of her diagnosis, Bosworth has been going to traditional physical therapy and recently added aquatic therapy at Kennedy Krieger Institute to her regimen.
"It's so different than land therapy because you are weightless, so you can do things that you couldn't do on land. I can walk around with no brace and no walker — just walk around sometimes with the help of my physical therapist and the parallel bars in the pool. It's really easy for me to take a step and get the full range of motion in my foot and everything," Delaney said of the use of aquatic therapy for her rehabilitation.
Bosworth has been using the HydroWorx 2000 Series pool at Kennedy Krieger Institute which features an 8′ by 12′ movable floor that doubles as an underwater treadmill. The floor raises up to ground level which makes entering the pool very simple and safe for someone with  Bosworth's limited mobility. She tells the 11 News reporter that the warm water enables her to move muscles more easily and she is able to accomplish a lot more in one aqua-therapy session than a traditional land therapy session.
Physical therapist, Liza McHugh, explains that "the water therapy allows her to walk for more repetitions for longer bouts, and that practice is really great for the nervous system. She can then carry that over on land. We can also use the water to do standing and balance activities and strengthening activities for her core." For a patient who is wheelchair bound on land, Bosworth's ability to perform these exercises is extremely remarkable.
Bosworth has been making a lot of progress in the last three years learning to move her legs on her own and stand with assistance. Her determination and positive mindset, along with her support system is what keeps her progressing. Entering her freshman year of high school this fall, she has one goal: to be able to walk again.
Bosworth's optimism is inspiring as she tells the news reporters that, "It's all up from here!"