Life After Joint Replacement for High Performance Athletes
Athletes dedicated to consistent improvement are destined to eventually wage a war against aging. To be sure, Mother Nature can throw even Olympians and professional stars curveballs.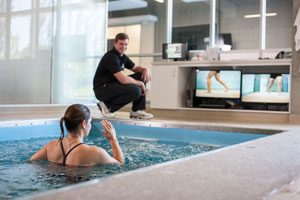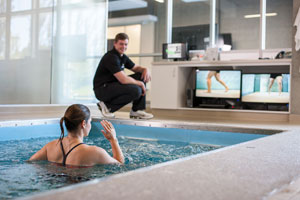 Fortunately, medical advancements such as total knee and total hip replacements often allow recreational and elite performers to continue their pursuits. However, the key to coming back lies not just in working with a talented surgeon, but in supportive pre-operative and post-operative physical therapy sessions.
At Fortius Sport & Health in British Columbia, team members including Erin Bussin, Performance Rehabilitation Coach and Hydrotherapy Lead, help special population clients optimize their abilities after replacement of a joint. Not surprisingly given her title and aquatics background, Bussin is a huge proponent of aquatics in addition to traditional land therapy.
As Bussin recently noted in an exclusive HydroWorx webinar, the power of hydrotherapy lies in both the general characteristics of water and the amenities of the pool itself. For instance, her facility's HydroWorx 2000 is equipped with a variable depth underwater treadmill floor, allowing Bussin to gradually build her clients' strength and endurance by offsetting the water's buoyancy, forcing proprioception and deliberate movements.
Additionally, the HydroWorx unit at Fortius Sport & Health includes six cameras, each of which concentrates on a different area of the pool. The camera feeds are tied to monitors that both Bussin and her clients can see in real-time, allowing her to more easily illustrate proper gait, which can improve patients' confidence each time they visit.
Currently, Canada (Bussin's home) has seen a 20 percent increase in hip replacements, with 74 percent due to degenerative arthritis. Similarly, the United States has also seen an upsurge in hip and joint replacement surgeries, many of which can be linked to aging athletes intent on staying "in the game." After conducting plenty of research on her own regarding successful physical therapies post-op, Bussin confidently feels that a mixture of aquatic and land-based therapies are superior to land-based therapies alone.
Of course, recovery doesn't happen overnight. When Bussin treats a patient, she considers the integrity of his or her joints and healing. Factors such as fitness level, how surgery was performed, client genetics, body composition, and self-motivation also play huge roles in whether patients can expect to see benefits sooner or later. Consequently, Bussin carefully transitions each patient by understanding where they are in the recovery process and encouraging proper movement over speedy progressions. After all, every athlete knows that mechanics are essential to peak performance. (To be sure, it can be tough to remain patient!)
Interested in learning more about the specific exercises Bussin uses or hearing insights into how she gets athletes back to the sports they love?
Watch this free webinar today and take advantage of Bussin's willingness to go in-depth on everything from the advantages of hot and cold plunge pools, using a massage hose directly, multidisciplinary approaches to physical therapy, and much more. Be sure to stick around for the end where Bussin answers pressing hydrotherapy questions perfectly suited for people who want to know how to maximize their time in a HydroWorx pool or standalone modality.