Let's Meet our Second Excellence in Aquatics Award Nominee
We introduced our first nominee (by alphabetical order) last week and we couldn't wait to share the next nominee and their expanded story with you!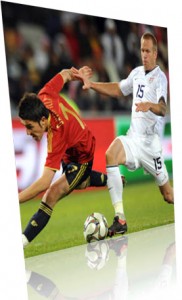 Fortius Sport and Health's Nick Held, M.HK, CSCS for the Achilles Rehabilitation of Vancouver Whitecap, Jay DeMerit
On March 2, Jay DeMerit went from being motivated and excited to start the 2013 season, to being immobile and unsure of his athletic future in only six minutes. It was at this point, six minutes into the first game of the season, that Jay left the ground to challenge an incoming ball. Upon takeoff, his Achilles fully ruptured and the rumor mill started whispering that his season, and potentially his career, were over.
However, Jay remained positive and goal-focused throughout his rehab and never doubted that he would play professional soccer again. He underwent surgery to reattach the tendon and began therapy sessions with Nick Held in the HydroWorx 2000 Series pool at Fortius Sport and Health in Burnaby, British Columbia approximately eight weeks after surgery.
DeMerit's aquatic rehabilitation initially included dynamic movements such as squats, lunges, single leg squatting exercises and heel raises. Additionally, he began walking against the jet resistance so that Held could observe his push off and plantar flexion on the injured side, as well as to increase the cardiovascular intensity. As the rehab progressed, other movements in the pool included high knees, agility/lateral based movements, initiation of jumping and reaction based movements.
At nine weeks post-op, Jay began jogging pain-free in the pool, progressing up to 4.5 mph with the water at chest height. Just over two months after his injury, Jay was running in 5-10 minute intervals at 6.0 mph + 40% resistance and completing heel raises in between runs. Towards the end of week 11, Jay was running in the pool at the height of the xyphoid process, and completing pyramid runs up to 8.0 mph + 60% resistance. By 13 weeks post-op, Jay began running on land with the Whitecaps medical staff.
At this point, it was crucial that the volume of loading on the Achilles was closely monitored. Once Jay began running on land, Held started to get creative with the sessions to ensure they were not overloading the Achilles. Water height remained at chest level and running consisted of a 10 minute warm up and five to ten, 30 second sprints. The rest of the session was filled up with high intensity intermittent exercise that did not stress the Achilles.
On July 18th, less than five months post-op, Jay had his last session in the HydroWorx and returned to full training with his team.
On September 14th, he came onto the field to mark his return to professional soccer just six months after Achilles reconstruction surgery. He played the final six games of the 2013 season and helped backstop the Whitecaps during their playoff push without any signs of a lost step or being out for almost an entire season.
"After rupturing my Achilles, most people thought I would be out for the whole season. But, with the help of Nick and the HydroWorx facility at Fortius, I was able to get back to playing in less than six months! Nick was not only very skilled at putting me through rigorous workouts in the pool, his easy going and genuine personality made him easy to work with on those tough rehab days. Thanks to its world class instructors and facilities, Fortius quickly helped me get back on the field where I belong." -Jay DeMerit, Captain of the Vancouver Whitecaps, MLS
Watch a segment of this rehabilitation below: