Let's Meet Healthcare Excellence in Aquatics Award Nominee #4
Over the weeks during voting we would like to share the expanded story of each nominee of the 2015 Healthcare Excellence in Aquatics Award. The nominees are being introduced in alphabetical order and voting is open until January 28, 2015 at 11:59pm EST.
Our fourth nominee is: UP Rehab Services for the Remarkable Recovery of a Quadriplegic Patient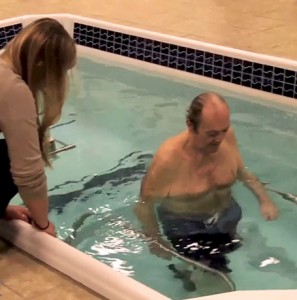 Meet Alex Guizzetti. Alex was in a car accident which resulted in a severe spinal cord injury from a break in his neck. Alex was paralyzed from the neck down and spent 1 year in Chicago receiving treatments. Following those treatments, Alex began aquatic therapy with the team at UP Rehab Services in Marquette, MI.
Prior to his accident, Alex was a very active adult. However, after his car accident, Alex was unable to walk and had to re-learn multiple tasks, activities and movements to get where he is today. At the time of his initial evaluation with UP Rehab Services, Alex was able to walk with a walker along with a gait belt and a nurse with at least "contact-guard" assistance.
For Alex, a typical aquatic therapy session in the HydroWorx pool ranges from 45-60 minutes, 3 times per week. He sees the occupational therapist for 1 hour before seeing the physical therapist. When Alex first began his therapy in the pool, he was walking around 2.0 mph for 10 to 15 minutes. After almost 4 months of intensive therapy, Alex is able to walk on the underwater treadmill for 30 minutes straight at 2.6 mph. He is also using the stairs to get out of the pool instead of the chair lift.
In addition to the walking program, Alex performed numerous exercises in the pool to increase his muscle strength and stamina, including the following:
Single leg squat
Kick board push down for core strength
Marching
Heel/toe raise
Back extension stretch with the railing
Jumping jacks with dumbbells
Step ups and step downs
Rapid squat jumps
He now walks into therapy every day independently with Lofstrand crutches. He is able to do a number of therapeutic activities and exercises with assistance from physical therapists and occupational therapists. His aquatic therapy sessions have helped him increase the muscle strength of his core, hips, legs and feet- all of which are critical in improving his endurance, gait and functional mobility.
I am lucky enough to be able to work with Alex in the pool and occasionally- "on land"- as well. I remember the first time I worked with him on land, we were doing some mat table exercises with focus on transferring from his hands and knees, up to kneeling and then bringing one leg up for a half-kneel position. With a Swiss ball in front of him, I asked him to try and bring his left leg up into the half kneel. His response was, "Um, I don't know about that." With encouragement, he gave it a try. His reaction when he was able to bring that left knee up and plant his foot on the mat, is the reason that I love my job. With a restrained smile on his face and big eyes, he said "That's the first time I've been able to do that." – Katie Bowlby, Physical Therapist at UP Rehab Services
Learn more about this case and watch Alex's pool rehab program in the two videos below: