Leg Pain Relief Using Aqua Therapy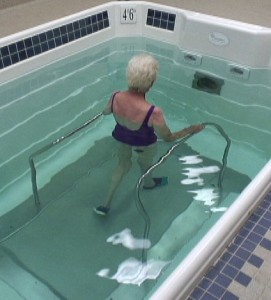 According to a recent article, Focus on Seniors: Aqua therapy can help leg pain, published on FloridaToday.com, seniors that are experiencing leg pain may find relief using aquatic therapy. At Melbourne Terrace, they have found that the natural properties of water help improve cardiovascular function and are seeing great results with their HydroWorx 500 Series pools, especially for patients who have peripheral vascular disease (PVD). PVD is a circulatory disease that involves the hardening of the arteries outside of the heart and brain, often in limbs and can cause pain when walking.
Request a Free Info Kit     View Our Products     Find a Pool Near You
For anyone who has leg pain, walking and exercising seem to exacerbate the pain, so often they end up avoiding those activities. In reality, sometimes walking and excercising are just what are needed to ultimately reduce the pain and solve the issue. By walking in the water, pain is essentially removed or drastically reduced. This opens the door for walking much more comfortably. The increased movement combined with the hydrostatic pressure of the water helps patients to recover faster, particularly from PVD.
Some of the natural properties of water that contribute to improved healing include:
Buoyancy: At chest depth in the water, a patient is bearing only 20-25% of their bodyweight.
Hydrostatic Pressure: Natural properties of water naturally reduce swelling and inflammation.
Resistance: Resistance and strength are increased when working against the added viscosity of the water or therapy jets.
Sensory Stimulation: Water increases kinesthetic awareness of the body to promote relaxation.
Water Temperature: The warmth of the water relaxes joints and muscles promoting early range of motion and increased flexibility.
Download the Senior Living Information Sheet: Why Water Worx!
Warm water therapy offers an effective way to combat falls and provides a valuable benefit to a community's bottom line. In this tip sheet, you will learn the benefits of water for your community, including: therapy services, falls reduction and wellness programs. Learn why warm water therapy is essential for aging patients' health and your community's success. Click here to download.
Page updated on: August 7th, 2020