Is there a movement in mid-major college football programs?
College football is a completely different game than it was ten or even five years ago. Stadiums are getting bigger, weight rooms are getting more impressive, and millions of dollars are being spent to improve a team's program. These upgrades are coming with many benefits and are definitely paying off. For example, The University of Texas' football program brought in $103,800,000 in revenue in 2012.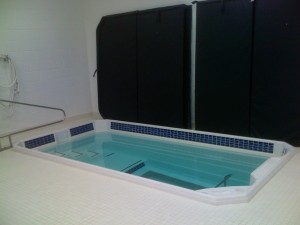 While major conferences are bringing in very large sums of money, such as the SEC having a revenue of nearly $290 million last year, there is also a dramatic movement in the mid-major college football programs. Conferences such as the Mid-American, American Athletic, and Sun Belt are continuing to grow and expand their facilities as well. Many of these mid-major colleges have included a HydroWorx pool in their athletic facilities. For example, out of the thirteen teams that play in the MAC, nine of them are currently HydroWorx customers.
We talked with two different athletic trainers from the MAC to get a bit more insight on this growing trend. We were able to hear from Phil Voorhis MSEd., ATC, Assistant Athletic Director at Northern Illinois University as well as Brian Jones, Assistant Athletic Director for Sports Medicine at the University of Toledo.
Phil Voorhis decided to incorporate aquatic therapy in their facility, simply because they were aware of  the advantages of water. Additionally, they had a staff member who has aquatic therapy training and would be able to utilize it effectively with the athletes. Jones wanted to incorporate aquatic therapy to provide the best treatment and care to their student athletes.  More specifically, Jones says "In a world where we need to get our SA's back as soon as possible, hydrotherapy gives us another "tool" in providing the best possible care to all our student athletes."
With a few different options for aquatic therapy pools, how did they decide to go with a HydroWorx pool? Both Jones and Voorhis told us that they chose a HydroWorx aquatic therapy and exercise pool because of the positive feedback and referrals from colleagues and other universities.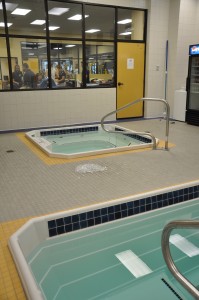 Of course with any large purchases, a lot of planning must be done, which can raise a number of challenges and concerns. Voorhis said they were concerned about "the logistics and mechanics of this large product as well as getting all of the parties involved (architects, engineers and HydroWorx employees) on the same page." Jones was focused on the cost and space challenges prior to purchasing a HydroWorx pool.  At the time of purchase, University of Toledo was remodeling their facility; therefore Jones was worried about the budget and making the pool "fit" into their space.
With every obstacle and challenge, there has to be a solution, right? Voorhis scheduled many conference calls, in person visits and sent many emails back and forth to make sure everyone was on the same page and well informed. That helped to solve his main reservation with this "big purchase." For Jones, he worked with the athletic administration at the University of Toledo to "sell" the pool as a rehabilitation tool as well as a "major enhancer in recruiting."  And it worked!
As a result of having an aquatic therapy and exercise pool, both universities have seen benefits in recruitment, faster return to play and enhanced performance in their athletes.
We have had fantastic results using the HydroWorx pool.  We use it as part of a rehab program, exercise, conditioning and other various uses.  ALL our Coaches also use it as a "recruiting tool" during the official visit- Brian Jones
Here's the full list of the Mid-American Conference:
Ball State University*
Eastern Michigan University *
Northern Illinois University*
Central Michigan University
University of Toledo*
Western Michigan University
Bowling Green University*
Kent State University
Akron University*
University of Buffalo*
University of Massachusetts **
Miami of Ohio University
Ohio University*
Find out more about how aquatic therapy is changing the "game" of rehabilitation and recovery>>
*= HydroWorx Customer