Iowa State's Sports Medicine Department: A Focus on Health and Wellbeing
The following blog post has been summarized from the recent article on athleticbusiness.com, "An Inside Look at Iowa State's Sports Medicine Dept."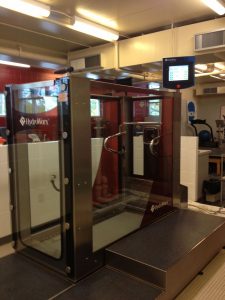 Iowa State Sports Medicine keeps a strong focus on their athletes' health and wellbeing. That being said, they are always looking for ways to improve the treatment of their students. They employ many different technologies and methods to ensure top-notch athlete care.
This article reviews the key techniques used in Iowa State's Bergstrom Football Complex such as:
Digital Diagnostics – measuring eccentric and concentric movements along with using biomechanical analysis gives Iowa State the ability to identify and predict problems before they happen and effectively measure progress.
Hydrotherapy – using the properties of water in any one of their three pools offers the ability to work on some facets of rehab earlier in the process so that when athletes are healed, they are better prepared to return to play.


Combined, both advantages make hydrotherapy irreplaceable. "We're kind of cheating rehab from the back end," Coberley says. "We're controlling all the symptoms and keeping a lot of these things to a minimum so that when the athletes do have their tissues heal up, which only Mother Nature can control, we don't have to address things such as range of motion and loss of balance, because we can work on those types of things in the pool."

Concussion Management – employing new technologies to objectively measure eye movements is a positive step to tracking concussion recovery.
Manual Manipulation – with the use of many new high tech treatment options, Iowa State believes that manual therapies still provide valuable benefits, particularly as techniques continue to evolve.
The key to Iowa State's sports medicine success is always looking ahead to what new technologies or techniques they will use next. Staying ahead of the curve keeps their athletes in great hands.