Introducing the Third Nominee for the 2015 Excellence in Aquatics Award
It can be easy to overlook how intensely college-level gymnasts must train.  Day in, day out, they push their bodies to the limit, sometimes with unwanted results.  At the University of Utah, one young gymnast discovered just how important the proper type of advanced rehab methodologies can be when injuries strike.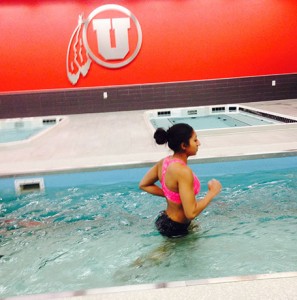 In January of 2014, she ruptured her left Achilles tendon during the first collegiate seasonal meet.  It wasn't the first time she had suffered from problems in her left ankle, but this latest injury required surgery and was potentially career-ending.  Many athletes who experience Achilles tendon ruptures never return to their chosen sports at their pre-injury levels; some do not return at all.
By the end of February, she was ready to begin exercising in the HydroWorx pool to maintain her cardiovascular endurance and work her way up to standing on her left foot.  Initially, she was instructed to swim against the resistance of the high-powered jets.  Eventually, the gymnast was able to bear some weight in the pool, which enabled her to jog and even sprint for short periods.  Along with hip and calf exercises, her routines enabled her to progress pain-free every week.
Even when she was finally able to comfortably return to land-based therapies and workout activities, her training team placed her in the HydroWorx therapy pool as frequently as they could.  This alleviated the pounding that her injured tendon experienced.  The pool was also used for plyometric activities to develop her fast-twitch muscles.  By the end of 2014, the student athlete was able to compete again, recording high scores for her performance on the uneven bars.  She helped her team take second place at the NCAA National Championships, and she plans to compete again in the coming season.
If you have been inspired by this story from the University of Utah, why not place a vote for our 2015 Excellent in Aquatics Award?  Just visit https://ww2.hydroworx.com/vote-2015-smed, and remember that you can vote once per day until June 17th at 11:59pm EDT.