Introducing the Third Excellence in Aquatics Award Nominee!
And now it is time to meet our third nominee for this year's Excellence in Aquatics Award. This award was created to recognize sports medicine professionals who, despite all odds, garnered superior rehabilitation results through innovative, and sometimes unconventional, methods. These pioneers relied on aquatics as a medium to help achieve exceptional results. This year's nominees, displayed creativity, expertise and courage when it came to rehabilitating their athletes– and it paid off.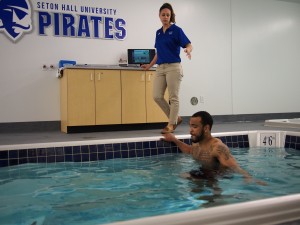 Seton Hall University's Tony Testa, Med, ATC, CSCS for the Return to Improved Play of a Baseball and Softball Player
Seton Hall University had both a baseball and softball player with oddly similar chronic pain in the hamstring and knee, respectively, throughout their entire seasons.
The baseball player was initially one of the faster athletes on the team but had experienced significant decline throughout the season. Following the spring baseball season he was examined under the ultrasound, and the results were abnormal, calling for further treatment.
The softball player initially sought treatment from her primary care physician and had an MRI following her spring season. The MRI revealed no significant joint injury and she was prescribed six weeks of physical therapy. After those six weeks, her physician scheduled her for an orthoscopic knee surgery in early September. However, Tony and his team evaluated the athlete before the surgery and suggested that surgery was not the best option for her.
Both athletes, as a result of abnormal ultrasounds, underwent a FAST (Focused Aspiration of Scar Tissue) procedure, which involves a 1 mm incision to remove damaged and broken scar tissue. The softball player went through the procedure about 4 weeks after the baseball player. 
Upon completion of their procedure, both athletes began rehabilitation in the HydroWorx pool just two days post-op with bio-occlusive dressings. Testa began hydrotherapy by slowly increasing range of motion and progressed them to full range of motion exercises including hip and knee abduction and adduction and knee flexion and extension. By week three, he worked on their range of motion with form running exercises and jogging in the pool. By week four, the athletes were running full speed in the pool. Each athlete rehabbed in the pool 5-6 days per week for 4 weeks straight with no additional land training.
The baseball player had one day of form running on land following the four week aquatic rehabilitation and then had to perform a 60 meter dash test for baseball. He performed this test with no land based training or strength training and he had the best time of his career! The softball player also tested with her fastest time ever. After 4 weeks of aquatic therapy (and no real land training), she performed the best agility test of her career. Both continue to play pain-free.
Watch underwater footage of how the athletes utilized the pool for their lower extremity rehabilitation:

The 2014 Excellence in Aquatics Voting is open until Wednesday June 18th! Be sure to get your votes in today. The winner will be announced Friday June 27th at 11:30am in the HydroWorx Booth #1131 at the NATA Conference!