Inspirational Story At The Iron Girl Columbia Half Marathon
The inaugural, all-women, half marathon in Columbia, Maryland kicked off Sunday, April 29th.  Katie Flake (wife of HydroWorx's CEO/Co-Founder Anson Flake), decided that she would participate in the event, however, there was one small problem.  The most she had ever run was 3 miles!
After being talked into running by friends also participating, Katie had her mind set on completing the event.  There were two motivating factors that went into her decision.
Flake said, "I decided I was going to do it for 2 reasons…to push myself out of my "exercise comfort zone" and, even more importantly, for my brother who can't run anymore because of his ALS. I was going to run for the both of us."
She would need some form of motivation after her leg seized up at mile 5.  After this point, she was forced to walk and could not run at normal speed because of the nagging pain in both her leg and knee.  "I felt like I messed up my knee so bad that it would never be the same again", said Flake.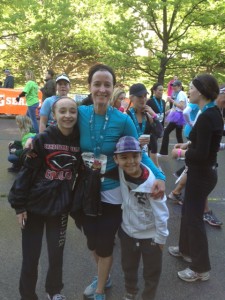 Keeping her brother in the back of her mind by listening to some of his favorite songs throughout the race, was a major factor in helping her complete it.  From start to finish, the entire day was an emotional one for Katie.  She says, "I cried like a baby at the start and when I crossed the finish line".
Katie went on to finish the race in 2 hours and 13 minutes!   Not bad, considering the final 8 miles were hindered by the injury.  Her friends all finished the race as well.  One even went on to finish 2nd in her age group with a time of 1 hour and 38 minutes!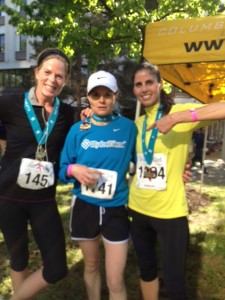 Following the race, Katie got into the same HydroWorx
underwater pool
that she had trained in.  She walked and put the
massage hose
on her injured leg and knee.
"It was a miracle!!", says Flake.  "Two days after the race, I was walking normally again!  Couldn't believe it.  It was my savior!"
What a great story of determination and hard work!  The HydroWorx family would like to congratulate Katie and her friends for their accomplishment!