Pregnant Mom of Three Fights Through Guillain Barre Syndrome
Bridget Hamilton, a mom of three with another on the way, used to do everything in her power to keep up with her busy day. She worked a full-time job as a teacher at a Dubuque Elementary School. But at the age of 30 Bridget, who was 10 weeks pregnant with her 4th child, was diagnosed with Guillain Barre Syndrome which completely paralyzed her, and landed her in the hospital for a few months. Guillain Barre Syndrome is a condition that causes the body's immune system to attack the nerves and can temporarily paralyze the patient.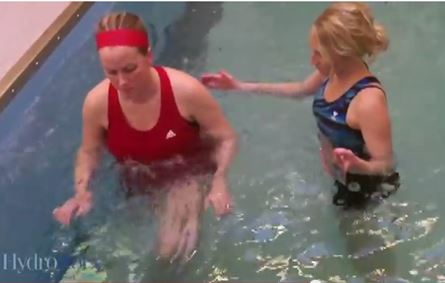 When in the hospital Bridget was placed on a feeding tube along with a ventilator and she could only blink for communication. One of the main concerns for Bridget was being able to strengthen her body, so she could deliver and then take care of her newborn. Once she got out of the hospital she realized that she had to be proactive in finding a solution to strengthen her body.
The Physical Therapists at Stonehill Franciscan Services in Dubuque, Iowa heard about Bridget's story and wanted to do something to help. They invited her to begin training at their facility using their HydroWorx Pool.
The HydroWorx pool was the absolute best fit for me. It allowed me to help balance with gaining the strength in my legs and arms…I saw great success fast!

-Bridget Hamilton
One of the many benefits to using the HydroWorx 2000 Series pool is the adjustable pool floor. Bridget was allowed to use her walker to access the treadmill, then transfer to holding onto the bars while the treadmill was lowered into the water.  Some other features of the pool that became useful during therapy were the resistance therapy jets with massage hose, underwater cameras, and variable speed underwater treadmill. Each feature displayed a different benefit for Bridget including balance training, gait training and resistance therapy.
Her ultimate goal was to be able to carry, change and play with her new born baby and kids. Now that her baby is getting older, Bridget continues rehabilitation to strengthen both her upper and lower body.
Watch the case study and pool protocol of Bridget Hamilton: