Insights Into the Development of a New Aquatic Therapy Program
It's not often that we have the opportunity to get an insider's view into the development of a new aquatic therapy program before it even begins. That's what makes the story of Trinity Terrace in Fort Worth, Texas, so captivating.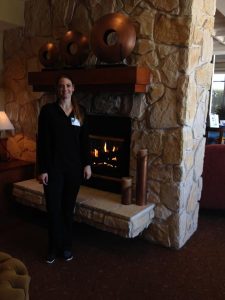 Laura Piland, PT, Assistant Director of Therapy at Trinity Terrace, was happy to give us some insights into the many plans the continuing care retirement community (CCRC) has for their HydroWorx therapy pool. The facility already has a well-used static pool, but as Piland explains, having the warm water therapy pool will open exciting doors. She should know. Not only did she ask for it by name, but she did her homework beforehand to bring facts to the table. She looked at pools and modalities, talked to HydroWorx users and presented her findings. The administrator saw that aquatic therapy was already being used but knew that a cutting-edge modality would really be helpful.
Trinity Terrace's residents may fit into the 65+ market, but they represent a wide range of levels and abilities. And they are expected to be the primary beneficiaries of the therapy pool after construction on the new tower that will house the HydroWorx equipment has finished.
Piland's team is in the process of structuring their aquatic therapy strategy to best fit the lifestyle needs and health concerns of the population at Trinity Terrace. Their goals are modest, although they're open-minded about the future of their aquatic therapy program:
They'll use the static pool for wellness, and the HydroWorx unit for hydrotherapy. However, there's no guarantee that they won't open up the HydroWorx to casual users; Piland is waiting to see what the demand looks like.
Piland's current aquatic patients will move from the facility's static pool to the HydroWorx, which they'll keep in the low 90s for a soothing temperature.
All residents will have access to the therapy pool, a nice perk that will set Trinity Terrace apart. Because therapy patients live onsite, staff can monitor their progress and suggest additional aquatic therapy as follow-up, when needed. Even if it's a private pay situation, Piland is certain that residents will appreciate the chance for life improvement and wellness.
In the future, Trinity Terrace will reach out to the Fort Worth community to offer access to their program. Surprisingly, there aren't many active pools in the area, giving Trinity Terrace an excellent chance to define itself as a leading-edge CCRC.
We can't wait to hear more from Piland as this aquatic therapy adventure begins!
Enjoy this free whitepaper about Why Water Worx for Senior Living & Senior Services.>>