Inside Look from New Aquatic Textbook Author #2!
We are very excited about a new textbook that was published this summer,  titled "The Use of Aquatics in Orthopedic and Sports Medicine Rehabilitation and Physical Conditioning," written by leaders in the sport & exercise and orthopedic industries. This textbook includes scientifically-based information on the use and application of aquatic methodologies in both rehabilitation and physical conditioning appropriate for everyone from the general population to the elite athlete. We anticipate that this book will help advance the use and adoption of aquatic therapy globally.
"The Use of Aquatics in Orthopedic and Sports Medicine Rehabilitation and Physical Conditioning" represents a new generation of rehabilitation that is informative enough to be injury and sports specific. Dr. Kevin E. Wilk, PT, DPT, FAPTA and Dr. David M. Joyner, MD, FACS, along with noted domestic and international leaders in the field, explore the aquatic techniques and principles detailed in the work, while presenting this scientifically based material in an understandable and user-friendly format. Ten chapters take the reader from the history of aquatic rehabilitation and progress to discuss all parameters of aquatic rehabilitation."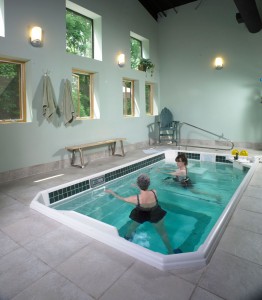 It is our goal to periodically interview some of the textbook authors to get an insider's perspective on this aquatic textbook. Our first interview was with Murphy Grant, MS ATC, CSCS, Director of Sports Medicine at the University of Kansas, who wrote Chapters 8 and 9. For our second interview we were able to hear from Timothy DiFrancesco, PT, DPT, AT, CSCS, AQx, and CMT. DiFrancesco is the Head Strength and Conditioning Coach for the Los Angeles Lakers and he helped write Chapter 6, "Aquatic Rehabilitation for the Spine."
How does it feel to be an author in a textbook? I have spent the greater part of the last 8 years in the trenches training people and following valid/reliable research in the field. To be able to relay some of the things that I have learned/designed in a textbook is exciting and very satisfying!
Have you ever written a book before? This was the first textbook that I have had the opportunity to be a part of and I look forward to more in the future.
Who was this book written for/intended for? This was a really dynamic project due to the experts involved. Experts of all areas in the sports medicine/rehab/performance training world came together on this project. The result is an extremely comprehensive resource that will serve to streamline aquatic rehab/performance training for anyone interested in evidence based approach to rehab/training.
What affect do you think  this textbook might have on the field of orthopedics? In this field there are so many different opinions and approaches to rehab/training. Only a select few have actually been a part of obtaining results in the trenches while being aligned with evidence/research/science. In my opinion this is one of those resources and because of that I think it will be a valuable addition to the short list of truly effective/evidence based guides in this business.
Questions about your chapter/topic:
What will readers learn from your specific chapters? Spine injury rehab and training is a complex and sometimes confusing task. It was my goal to contribute a clear evidence-based results driven type approach to spine rehabilitation in an aquatic setting.
Your chapter was focused on "Aquatic Rehabilitation for the Spine." When did you first start utilizing the pool for this specific rehabilitation and why? Aquatic based spine rehab may not be the first approach that comes to mind for rehab professionals faced with rehabilitating individuals from spine based pathology. Sometimes spine pathologies simply don't respond to more traditional approaches and you need a new tool. This is a tool that you can rely on for safe, evidence based results in spine pathology rehab.
What benefits do you see to performing this specific rehabilitation in the pool versus just working on them on land? I believe that varying modes of training is important and this tool allows a rehab specialist to do just that. Sometimes patients become stale or plateau in the rehab process and this minimizes the chances of falling into that trap.
How frequently do you refer to aquatic rehabilitation for your patients or athletes? Do you recommend aquatic therapy only if they are injured or if they are healthy too? Why? I think that aquatic based rehab is excellent in the very early stages of rehab and also as a nice way to add variety when training completely healthy individuals. For healthy individuals it can be a great way to avoid overtraining!
How do you see the use of aquatics changing rehab in the future? I think it already has changed rehab approaches. Many people are recognizing the immediate therapeutic benefits and have adjusted their approaches accordingly. This will never surpass land based training/rehab but can act as a great supplement!
Excerpt from Chapter 6
"One of the greatest advantages of aquatic therapy for the treatment of back pain is the ability to begin earlier interventions than would be possible using traditional land-based exercises. It is widely accepted that bed rest is detrimental to patients with LBP because muscles can atrophy and further weaken during this time. Additionally, the decreased activation of muscles results in slower healing time for the intervertebral discs due to the lack of fluid flow. Due to the unloading effects that buoyancy provides, an earlier and more aggressive treatment protocol can occur with aquatic therapy and therefore better results may be seen with this type of intervention. A systematic review showed that aquatic therapy is a safe and effective treatment modality for patients with chronic LBP." (page 72)
Order your copy of this brand new Textbook today!