Inside Look from An Aquatic Textbook Author
We are very excited about a new textbook that was published July 15 of this year, titled "The Use of Aquatics in Orthopedic and Sports Medicine Rehabilitation and Physical Conditioning," written by leaders in the sport & exercise and orthopedic industries. This textbook includes scientifically-based information on the use and application of aquatic methodologies in both rehabilitation and physical conditioning appropriate for everyone from the general population to the elite athlete. We anticipate that this book will help advance the use and adoption of aquatic therapy globally.
"The Use of Aquatics in Orthopedic and Sports Medicine Rehabilitation and Physical Conditioning represents a new generation of rehabilitation that is informative enough to be injury and sports specific. Dr. Kevin E. Wilk, PT, DPT, FAPTA and Dr. David M. Joyner, MD, FACS, along with noted domestic and international leaders in the field, explore the aquatic techniques and principles detailed in the work, while presenting this scientifically based material in an understandable and user-friendly format. Ten chapters take the reader from the history of aquatic rehabilitation and progress to discuss all parameters of aquatic rehabilitation."
We will be periodically interviewing some authors to get an inside look at their thoughts on the book. For our first interview, we tracked down Murphy Grant, MS ATC, CSCS, Director of Sports Medicine at the University of Kansas. Grant wrote two chapters in the book, which were focused on physical conditioning in the water: Chapter 8, Strength Training and Conditioning and Chapter 9, Sport-Specific Training.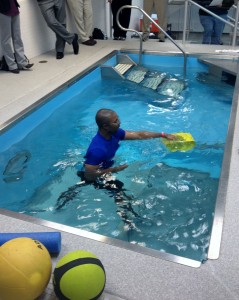 How does it feel to be an author in a textbook? It feels great, something that I never thought that I would have an opportunity to do.  But very exciting to see my name next to some of the other great authors in the book.
Who was this book written for/intended for? For individuals in the medical and sports performance world that deal with healthcare to show them a new tool to use to put in their tool box.
What effect do you think this textbook might have on the field of orthopedics?  I think that it will open up a lot of eyes and minds to the usage of aquatics.  Water is a powerful tool and with correct usage, clinicians and coaches will have an opportunity to take their patients, clients, or athletes to entirely new levels!
 Questions about your chapter/topic:
What will readers learn from this book? That there are very positive results that come out of using aquatics for strength and conditioning and rehabilitation.
How do you see the use of aquatics changing rehab and strength training and conditioning in the future?  Well, in my opinion, what I see and what I hope to see, in my opinion is that there is an increase is usage.  My job is to provide quality healthcare to the student-athletes here at the University of Kansas.  All health care providers should want to provide that type of care as well.  The use of aquatics within a program definitely gives you that opportunity.  It is another tool to use and it is effective!  Hopefully this book opens up more eyes and minds to the possibilities of using advanced hydrotherapy technology, like HydroWorx, for therapy sessions.
Your chapter was focused on "Strength and Conditioning in the water." When did you first start utilizing the pool for strength/conditioning and why? I started using the HydroWorx pool for strength and conditioning while I was at Oklahoma State University working with the men's basketball team.  We have several players around during the summer that wanted to train, but I did not want them in them weight room during that time.  So I put them in the pool and kind of kicked their butts.  It has grown from there!
How frequently do you have athletes utilize the pool for strength training and/or sport-specific training? 4 -5 times a week.
Do you have your athletes get in if they are healthy or just when they are injured?  Both, there are healthy guys that will benefit from training in the pool (less pounding).  All of our injured athletes get in the water.
What benefits do you see to performing sport-specific exercises in the pool versus just working on them on land?  Less pounding on body, increases balance and stability, and you have resistance coming from all directions. This forces the person to concentrate on the movement itself.  Moving around in water is tough.
Excerpt from Chapter 8, written by Murphy Grant. (page 93)
"The world of sports performance, personal training, athletic conditioning, and performance enhancement is constantly changing. This thought process along with an aquatic medium will keep sport and fitness enthusiasts on the cutting edge of injury prevention, fitness and performance enhancement. When designing and implementing strength training exercises in any workout, there needs to be an development of all fitness and health components  such as functional strength, flexibility, nutritional efficiency, and metabolic efficiency, because this will aid in achieving peak performance  Strength training results in improvements in strength, speed, power, agility, endurance, neuromuscular control, and flexibility. One of the basic aspects of most exercise prescriptions in training programs is related to improving the body's ability to gain energy.
The purpose of this chapter is to present a rationale for aquatic-based training and explain why it can have significant strength benefits, even with elite athletes. However,  aquatic strength and power training should not be a replacement for land-based strength training but a supplement, an adjunct to land-based therapy to help develop strength and power in athletes."
Order your copy of this textbook today to learn more about the uses of aquatics.
Watch some of Murphy Grant's underwater strength and conditioning sessions here>>