Innovation: Key to a Successful Aquatics Program
The following blog post has been summarized from the recent article, "Innovation is the Cornerstone to Aquatic Therapy" by Debi Tyler, OT at Cedar Village on McKnight's.
Creativity and innovation are keys to a successful aquatics program in a senior living facility.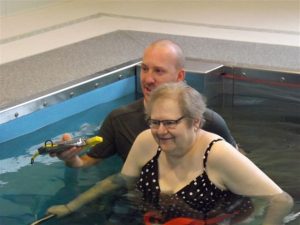 Even with an innovative mind set, Debi Tyler, OT, and her team at Cedar Village in Mason, Ohio didn't realize how truly innovative they could be. Since their doors opened in October 2014, Cedar Village has welcomed the community as a wellness initiative. Soon, Debi and her team discovered just how powerful water exercise can be for residents and community members alike. Locals can come in and casually do aquatic aerobics. Classes throughout the week focus on tai chi, gentle stretch, endurance and active exercise and anyone that wants to stay and work on their own can do so for $5.00. There is no commitment and it is affordable. Debi has rehab patients go through their physical therapy, go home, then come back for the wellness program. Those patients tell friends, so others who would not normally come into the facility now do for water exercise.
Debi Tyler says with appreciation, "They get exposed to our facility and see how beautiful it is."
Debi and her team also discovered an opportunity with a stroke patient. They noticed that the patient was much more relaxed in the water and open to multi-tasking because the fear of falling was eliminated in the therapy pool. The team decided to collaborate time and resources by having the Speech Therapist in the pool with the patient while the patient was undertaking the aquatic exercises.  The Speech and Physical Therapists focused on having the patient multi-task while in the water. This was a great experiment. The Physical Therapist asked the patient to move both arms across midline and press the right heel down on the floor, step up and press down again. The patient was accustomed to the physical exercise but Debi and her team wanted to introduce him to another level of challenge by naming his children as steps were being taken or count backwards while aquatic motions were happening. He made tremendous progress physically and with speech, too. With substantial improvement, the patient was able to return home and continues to improve.
The staff at Cedar Village attribute the success of the stroke patient to their pool because it was something the patient enjoyed. The patient relaxed and was not as stressed and frustrated as on land. Patients just have more fun in the water.
Sometimes, you cannot predict the response from a patient when associating two tandems. Water is a miracle in many ways. Debi and her team suggest to colleagues with aquatic therapy programs to be open to new opportunities. There is nothing like seeing the face of a patient motivated to work harder for an improved well-being.