Increasing Patient Outcomes with a Powerful Combination
The following blog post has been summarized from the recent article on McKnights, "Good staff and quality equipment increase outcomes," written by Keith McCrate, PT, Director of Rehab for Presbyterian Village North.
There are many different techniques and best practices for ensuring the highest quality of patient outcomes. But how do you know what works best for you and your facility? At Presbyterian Village North in Dallas, Texas, they focus on having quality equipment and high quality staff to achieve the best patient outcomes possible.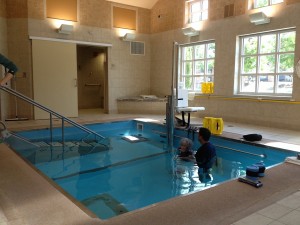 Presbyterian Village North (PVN), a non-profit organization, offers services in assisted living, skilled nursing, certified Alzheimer and dementia care, as well as inpatient and outpatient rehabilitation. They believe in concentrating their efforts on what's important to each individual with whom they come in contact.
One recent example of their individualized care was for a patient, who was in a terrible car accident. They didn't know if she would ever walk again. She had a fracture in all four extremities, a total shoulder replacement, hand reconstruction and multiple fractures in her legs. She was thankful to be alive and really didn't have the expectation that she would do anything ever again. She laid in bed for two months and they moved her to a chair and back, and that was the extent of her movement. That's it. Then they were able to get permission from the doctors to get her in the water after her wounds healed. Just two months after she began in the pool, she had permission to be weight bearing on land and she walked across the therapy room. 1 month after that, she went home.
They were talking months and months before she would be able to do anything and in just two months, she was walking in the HydroWorx. What should have been about a 9-12 month recovery, ended up being 5 months—and she didn't start rehabbing until two months post-op. – Keith McCrate
These results were no small feat, but it was all attributed to the powerful combination of quality equipment and staff.
Equipment
One of the pieces of equipment that is an integral component of achieving successful patient outcomes at PVN is their HydroWorx 3500 Series pool with an underwater treadmill, resistance jets and video monitoring system. Keith shares about integrating this piece of equipment, "As a physical therapist and administrator, I've seen this pool work wonders for many of our residents and patients through the years. As a staff, we wondered if water could help this patient. We felt that the hydrostatic pressure, warmth of the water, buoyancy and resistance would combine to enhance her stamina, muscle strength and flexibility."
With the use of this technology the staff at Presbyterian Village North (PVN) was able to progress this patient, and many others, much faster and safer than they would have with just a land-based program. Within just 60 days of this patient getting in the water, she was discharged and walking with the use of a walker.
Staff
The second piece to this puzzle is creating a team of individuals who are highly trained and focused on improving the lives of everyone they serve. In order to provide exceptional care to their patients, a team of dedicated staff members is a must. With the high volume of patients they see in their HydroWorx pool, it is essential for the staff to be well-educated and trained on how to maximize their aquatic therapy sessions. Keith says that when he has spoken with facilities who have had aquatic therapy programs that have failed, it is almost always due to poorly trained staff.
At PVN they make a big investment in their staff, helping them incorporate hydrotherapy's best practices and most recent technology. In order to ensure the best outcomes for their residents and patients, they know that they must devote extra time and energy to training staff members. The resulting benefits are invaluable to their success.
To learn more about Why Water Worx for Senior Services, download our whitepaper today!