The Importance of Marketing: Create Your Strategic Game Plan
The following blog post has been summarized from the recent article, "Tips to Market Your New Modality" by Kimmer O'Neill, DOR/MOTR at Port Charlotte Rehab Center on McKnight's.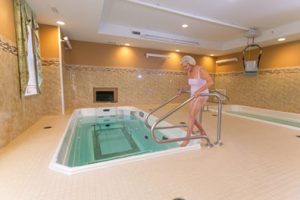 In order to launch an aquatic program in a clinic or senior living facility, marketing is a key piece of success. It does not require a marketing degree in order to be successful at marketing the program. When Kimmer O'Neill, DOR/MOTR and her team at Port Charlotte Rehab Center in Port Charlotte, FL decided it was time to purchase an advanced therapy pool with an integrated underwater treadmill, they realized how important their marketing efforts were going to be.
After making the investment, they knew that a strategic marketing plan was needed to document and outline their marketing and advertising efforts moving forward. The goal was to build brand awareness, pool utilization, doctor referrals, self-referrals and general aquatic knowledge. Achieving these goals involved accomplishing specific marketing objectives within a set time frame. Within two years of planning, Port Charlotte Rehab Center made ample progress. Kimmer recommends the following elements to help jump start success in reaching your goals:
Build a Strong Team. Commit to having all of your physical therapists certified in aquatics and consider getting the director advanced training. This is important and guarantees that everyone has expertise in and passion for aquatics. Study your demographics and see what your area needs, then hire team members that have specialties specific to those needs.
Host "Open House" Tours and Offer CEU Events for Doctors. Set up appointments and meet with doctors. For instance, Kimmer visited physicians who worked with pulmonary patients and explained how the built-in treadmill allowed individuals to have oxygen at the side of the pool and still build stamina in the water. This intrigued the doctors, who agreed to come for visits. As soon as they saw the therapy pool, they were impressed and got on board with aquatics. Port Charlotte Rehab Center also offered a CEU event on-site for doctors. Once they got them in the door to see the advanced technology pool, they were sold.
Collaborate with Case Managers. If you're looking for more referrals, collaborate with case managers. Introduce creative ways to get them into the clinic. In one case, Kimmer and her team, invited all the case managers to the clinic and gave them hams before Thanksgiving. Every four months or so, the clinic has a wine and cheese evening. The case managers actually bring their swimming suits and try out the pool.
 These out-of-the-box ideas will help give a boost to traditional marketing efforts. Kimmer uses traditional advertising methods as well, such as flyers, holiday baskets and even pop-ins to doctors' offices.
Kimmer states, "The key has been to develop a good marketing plan and not a random approach. If we just say, 'We have aquatics!' people will not come. Remember that it's what you're doing that really matters and counts. Take time to develop your game plan and work it to the best of your ability. You'll be surprised at how receptive people can be and how quickly your successes come."
Read the full article here.