Hydrotherapy Trial Sessions Increase Aquatic Therapy Program Support and Referrals
Building cohesive support for your aquatic therapy program among your staff, board, and leadership starts with having a positive experience and understanding of hydrotherapy. Many of our customers have achieved this by providing an opportunity for these individuals to actually try their HydroWorx.
When Central Kansas Orthopedic Group received their HydroWorx 350, owner Troy Moore spent a Friday giving all staff members first-hand knowledge of the pool.
"Everyone got in," stated Moore, "including my front office coordinator and all non-therapy staff."
Moore went on to state:
"These folks answer the calls from people who hear about the water and want to know what the pool does, why the underwater treadmill matters, and how it feels. How could my staff truly answer those questions without first-hand experience?"
When the staff members experience what it's like to use the massage jets, feel water resistance, and walk on an underwater treadmill, they become more apt and able to discuss these benefits accurately with clients. 
Tip: Include an experiential learning session as part of your new hire onboard training process.
If you're like many HydroWorx clients, somewhere in the neighborhood of 30-50% of your outpatient business comes through referrals from other patients. Even if current patients aren't using the HydroWorx pool for their own therapy, they can easily be educated as to its merits and share the message.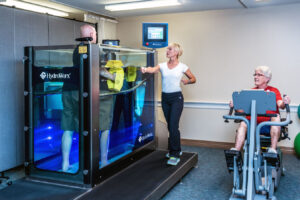 Rachel McDermott, former director of therapy for Stonehill Franciscan Services, encourages training your staff to have discussions with clients about the benefits of the HydroWorx pool (and consider offering patients a trial session in the pool before beginning therapy). 
"Patients are not going to 'buy-in' as much as possible unless you put them in the pool and let them try it out and feel it," says Rachel. 
Tip: Host an open-house-style event to allow clients the opportunity to try a short hydrotherapy experience.
---