The Importance of Experiential Learning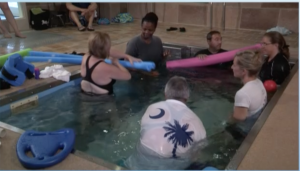 We all understand the difference between hearing about how great something is and actually experiencing it, like reading about downhill skiing and then feeling our hair wave in the wind, smelling the fragrant pine and seeing the mountaintop view while gliding down the slopes.
As small children we're encouraged to learn with our hands; the five senses are brought into almost all we do in kindergarten. Yet as we progress through our educational experience, this mode of instruction generally decreases—to our detriment, at times.
Richard Branson, English business magnate, once said, "The ideas for the best businesses tend to come from personal experience. There are many great ideas that have arisen by other means… but when you are generating ideas for a business, first-hand experience is essential."
Many business leaders, including our physical therapy and senior living clients, understand and implement the power of experience-based learning. While in school for physical therapy, manual therapies are best learned by practicing on classmates, family and friends. This same concept applies to looking into new modalities that perhaps weren't taught in school. We have seen this first-hand with our most successful customers. They get their staff and patients (prior to an aquatic therapy session) in the pool, allowing them to become personally engaged in the energy of water.
At CKOG, Everyone Gets In!
When Central Kansas Orthopedic Group received their HydroWorx 350 several months ago, owner Troy Moore spent a Friday giving all staff members first-hand knowledge of the pool.
"Everyone got in," stated Moore, "including my front office coordinator and all non-therapy staff. These folks answer the calls from people who hear about the water and want to know what the pool does, why the underwater treadmill matters and how it feels. How could my staff truly answer those questions without first-hand experience?"
When the staff members feel the jets and their multi-directional resistance, experience the freedom of movement on the treadmill, and feel the hydrostatic pressure improving blood circulation and providing natural resistance, they become more apt and able to discuss these benefits with clients.
If your program is already well established, don't forget to include experiential learning into all new hire onboard training.
Beneficial for Clients, Pre-therapy
If you're like many HydroWorx clients, somewhere in the neighborhood of 30-50% of your outpatient business comes through referrals from other patients. Even if current patients aren't using the HydroWorx pool for their own therapy, they can easily be educated as to its merits and share the message.
Rachel McDermott, former director of therapy for Stonehill Franciscan Services, demonstrates ways to lead a staff discussion with clients about the benefits of the HydroWorx pool and encourages staff to give patients an experience in the pool before beginning therapy. McDermott asserts that what is more effective than telling a patient about the pool, is actually letting him or her experience it, first-hand.
Says McDermott, "Patients are not going to 'buy-in' as much as possible unless you put them in the pool and let them try it out and feel it." See a clip of Rachel teaching this concept at a PruittHealth in-service meeting:
Your staff steps into the shoes of their clients when they experience first-hand the power of a HydroWorx system. So get in, get wet and get on your way to strong internal marketing.
Learn more about gaining referrals from aquatic therapy with our tip sheet>>