ICAA Webinar Recap: Aquatic Strengthening For The Aging Population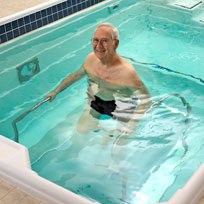 HydroWorx recently sponsored a webinar from the International Council on Active Aging (ICAA) on Aquatic Strengthening for the Aging Population, presented by Kurt Stork Director of Rehabilitation Services for Premier Surgical Institute & Ortho Four States Physical Therapy and Aquatic Rehabilitation. This webinar focused on how to successfully apply aquatic exercises to strengthen aging adults and transition them back to activity on land
Kurt has been in outpatient orthopedic and sports medicine for 20 years and his wife is an aquatic certified PT.
At their facility, they had an overwhelming response to aquatic therapy from the community after they installed their first HydroWorx 750 Series pool and had to build a second pool (HydroWorx 3500i with 2 treadmills and a larger exercise area) to accommodate demand. With their two pools, they see over 6,000 aquatic visits per year.
In general, the aging population is becoming more active. They want to improve endurance and quality of life. And it's important to remember that strength training just simply requires resistance; it doesn't require an impressive fitness center. There are so many ways to be creative with what you have (e.g. a 5lb bag of sugar as a 5lb weight).
According to a study, seniors over 60 years of age CAN increase strength by increasing muscle mass at an intensity of 60-85% of maximum voluntary strength. This doesn't mean they need extreme resistance, but seniors do need to push hard enough to make a change.
Strength training offers several benefits for older adults including the ability to:
Maintain bone density
Improve balance, coordination and mobility
Reduce risk of falling
Maintain independence in performing activities of daily living
Improve energy level
Increase social interaction
Decrease pain
Offering strength training in the water can be a safe, fun way to impact older adults. Find ways to make aquatic strengthening more fun, even offering a class. When it's fun and social, seniors are more likely to participate.
Benefits of regular exercise program:
Improved self-confidence
Decreased incidence of depression
Improved sleep
Increased happiness
Less pain
Improved personal satisfaction
If you have a resource to have a wellness program with the pool, the results are amazing. For those that are deconditioned, have arthritis or other conditions, or those that want to maintain higher fitness levels, they can continue training more aggressively in the water than they might be able to on land.
The advantages of aquatics for an exercise program include:
Buoyancy – unloads the spine, and joints.
Hydrostatic pressure – helps decrease swelling, improves joint position awareness in space, improves blood flow.
Warmth – relaxes muscles, increases blood flow to injury, stimulates body awareness and balance.
Viscosity – excellent source for resistance in strengthening
Improves morale and confidence – seniors can do more in the pool and challenge themselves beyond limits of stability.
Improves functional independence.
Using the underwater treadmill builds endurance. When you consider that 2mph in water is equal to 4mph on land, you are able to slow down and have them work against the resistance of the water. This is great for older people that can't develop endurance on land.
The benefits of early intervention with aquatics are:
Decreased pain
Decreased swelling
Increased ROM/flexibility
Increased activity level
Facilitation proper gait mechanics
Earlier full weight-bearing tolerance with less compensation
Kurt presented great examples of how aquatics are beneficial and some exercises that are beneficial for a wellness program in the water. Browse our webinars today!