HydroWorx Underwater Marathon Practice Event
        Tomorrow marks the beginning of the One month countdown. One Month until the first ever 
HydroWorx underwater marathon
 is held at Troeg's Brewery on September 9, 2012.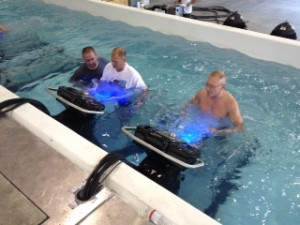 Today we had an awesome practice event at the R & T Mechanical in Lancaster, PA. We had a great turnout where individuals were able to try out the underwater treadmills before running in the main event next month. Everyone appeared to enjoy the concept of running underwater and ran very well for being first time water joggers. The excitement for this event cannot be contained as we treated today's practice event as a relay, similar to how it will run for the main event in September. For additional information about the HydroWorx underwater marathon 
visit our site
.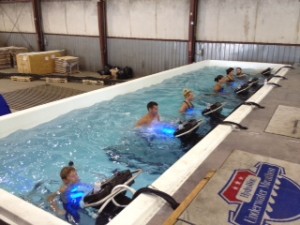 Special thanks to the sponsors who attended today, R&T, Pennsy, Matt Kennedy and the Cleveland Brothers, as well as all of our sponsors who are helping to make this event possible. Additionally, if you are interested in buying a T-shirt please contact Michele Reber at mreber@www.hydroworx.com.
The HydroWorx Underwater Marathon will be held on Sunday, September 9, 2012, in Hershey, Pa., beginning at 7am at Tröegs Brewery. The marathon will allow individuals and corporate teams to raise monies for the Eagle Fund by running 5K, 10K, half-marathon or marathon distances on HydroWorx X80 underwater treadmills.