HydroWorx Top 5 Most Popular Blog Articles
We enjoy being able to provide blog posts to educate and entertain our readers. It is always enlightening to discover which blog posts seem to be the most popular because it helps us understand what people are interested in. Based on our viewing stats, we know that people love blogs about athletes, knees and inspiring stories.
Here are the top 5 most popular blog posts:
5.  "Brian Keefer of 'Extreme Makeover' Working Hard to Achieve a Goal" Brian Keefer became a quadriplegic in 2008 following performing a triple flip move at a local gym and his family ended up on the ABC TV show, Extreme Makeover: Home Edition. The goal was to provide a new house to make sure Brian had the best chance at a normal life. Included in their new home was a HydroWorx aquatic therapy pool. This blog post showed the improvements and accomplishments Brian has made a year and a half after his new house was built!
4. "Underwater Treadmill Study Shows Benefits for Fitness" A study conducted by the Division of Health, Physical Education, Recreation and Dance from the University of Idaho investigated the cardio-respiratory responses elicited during maximal-effort runs using an underwater treadmill and a land treadmill. The researchers concluded that the underwater treadmill is a viable training alternative to maintain or improve fitness levels for injured and healthy athletes. Alberto Salazar, Coach of the Oregon Project, including Mo Farah and Galen Rupp shares,
"We don't consider it an alternative to running outside. We consider it as important as running outside. It helps us become stronger by running against the resistance of the water and it helps us recover from our dry land training."
3. "Using the Power of Water for Knee Rehabilitation" Meghan, a patient at Essex Aquatic Rehab Center, tore her ACL, MCL, PCL and medial meniscus while playing soccer. Meghan began aquatic therapy in the HydroWorx pool and saw many improvements very quickly. This blog post includes the pool protocol for Meghan's total knee rehabilitation. 
2. "Aquatic Therapy Rehabilitation for Total Knee Replacement"  Coping with knee pain or knee injuries can be both physically and emotionally exhausting. Clinical studies have proven the benefits of exercise in a warm water environment when recovering from knee surgery. In this post, learn the benefits of aquatic therapy for knee replacements with a case study from Kansas Joint and Spine Institute of patient who got in the pool for therapy just 4 days post-surgery.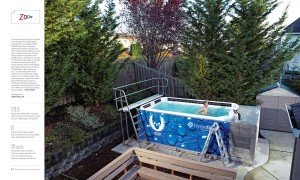 1. "Galen Rupp's Backyard Showpiece, a Two-Page Feature!" In the January 2013 issue of ESPN The Magazine, Galen Rupp's HydroWorx pool was featured on a two page spread. The Olympic Silver Medalist's pool, the grand showpiece in his backyard, seemed to be the topic of conversation and priority among his teammates. According to the article in ESPN, Rupp opens his pool for his teammates to come and train.
Tell us your favorite blog post in the comment section below!