HydroWorx Preps Men's Field Hockey Players
After three weeks of tough training in preparation for the most competitive August of their lives, the Canadian Men's National Field Hockey Team needed a week of active recovery. To get the most out of their time before ratcheting up the intensity again, they headed to Burnaby, BC. There, Nick Held, the Director of Hydrotherapy at Fortius Sport and Health and the Sport Scientist for the Men's National Program, introduced players Matthew Sarmento, Forward; Benjamin Martin, Defender; John Smythe, Midfield; and Gabriel Ho-Garcia, Midfield to their 2000 Series HydroWorx therapy pool.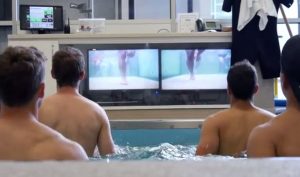 Though some of the players were new to the idea of hydrotherapy and hot/cold therapy contrasts, they loved the experience. As they discussed what it was like, they noted that they appreciated the way the HydroWorx therapy pool allowed them to:
Run underwater comfortably with a reduced load on their bodies.
Keep the impact low and their heart rates in desired zones.
Recover from high training loads without losing conditioning.
What's at stake for these players and their teammates? Quite a bit, as it turns out. Men's field hockey has been a permanent fixture on the mainstage since 1928, and the Canadian team is one of just 12 competing in 2016. If you're a men's field hockey fan, you'll immediately notice when you watch the events that there's a substantial format change. Each men's field hockey match will include four 15-minute quarters (rather than the standard 4 20-minute quarters). In other words, the athletes are going to be challenged to the max.
Why did they choose Fortius Sport and Health? In essence, the reputation. Additionally the team is based locally and train at Fortius for the majority of the year. Fortius has made a name for itself and fully integrates all of its services to help clients achieve their goals. For the Canadian Men's National Field Hockey Team, that goal was recovery without compromise.
Currently, Canada is in the middle of a four game series with USA, winning the first two games by a score of 6-3 and 4-1. The last two games take place this weekend in Vancouver, BC.
Canada's team has been competing every four years since 1964 in Tokyo. And this year they are hoping to succeed on the mainstage. You can be sure that everyone at HydroWorx will be watching to see what happens for these dynamic elite stars!
Take a look at their active recovery and regeneration session