HydroWorx is heading to London!
HydroWorx is on the move, and heading to the UK again! Last month our international director, Kim Willing, traveled to the lovely St. George's Park and National Football Centre for the 2-day event, MDT 2013. The event went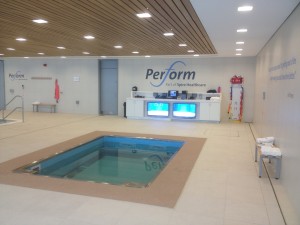 beautifully and even featured a brief demonstration in the HydroWorx 2000 Series pool, by our very own, Mike McHugh, and Lead Physiotherapist Paul Williamson.
Next week, Willing and our marketing director, Nicole Biesecker will be making the overseas flight again, for an event in London. The International Conference on Sports Rehabilitation and Traumatology, entitled 'Football Medicine Strategies for Muscle & Tendon Injuries'  will be held at The Queen Elizabeth II Conference Centre and Wembley Stadium, home to Chelsea Football Club. This event is organized and put on by the Isokinetic Medical Group's Education and Research Department to inform and educate attendees about treating and preventing muscle and tendon injuries for football (soccer in America) players. Staff, attendees and speakers include doctors and physiotherapists from sports teams, orthopedic surgeons, rehabilitation specialists (i.e. strength and conditioning coaches and athletic trainers) and technical and coaching staff.
Despite the fact that this premier event is in London and specifically about football injuries, the topics and content is certainly applicable to all sports and all athletes.
The Isokinetic Medical Group details the relevance to the topic of  'treating and preventing injuries in their athletes' for each of the groups represented:
 

Doctors and physiotherapists at sports teams treat numerous muscular injuries per year and face constant pressures when diagnosing, estimating recovery time and mitigating against the risk of re-injury. Constant learning in this field is essential to improve the level of advice given to coaching staff.

Orthopedic Surgeons are presented with a wide range of conditions, ranging from relatively simple cases to the most complex and debated issues in sports medicine.  Therefore, key topics covered in this conference will include ruptured tendons and muscle lesions.
Strength and conditioning coaches, athletic trainers and other rehabilitation practitioners are responsible for guiding the athlete towards optimal performance via gradual and complete functional recovery programs.
Coaching and technical staff have the responsibility of managing athletes who compete in up to 70 matches and over 200 training sessions per year. With such a high risk of overload injuries, it is important that they are educated on the intricacies of these injuries including their prevention and proper rehabilitation.
"The 'Football Medicine Community' is regularly confronted by muscle and tendon injuries in football players. In dealing with these injuries it is essential that all stakeholders are involved in the dialogue; including discussions over their prevention, diagnosis, treatment and rehabilitation."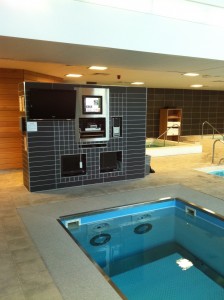 HydroWorx will be in stand #12 in the Whittle room, sharing information about how aquatic therapy can help athletes recover faster from injuries as well as increase muscle strength to prevent future injuries.  Additionally, for those attending the event and interested in seeing a pool in action, contact Kim Willing to sign up to 'demo a HydroWorx therapy pool' at a local premier league's facility!
Watch and see how aquatic therapy is being used in the Premier League already, with the West Bromwich Albion: